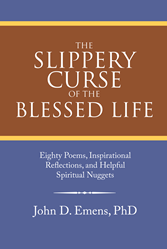 "I wanted my book to encourage readers to seek a strong relationship with God and to personally seek Him out in good times as well as challenging ones," said Emens. "The comfort is knowing He is always there."
COLUMBUS, Ohio (PRWEB) December 05, 2022
Author John D. Emens, Ph.D., is no stranger to trials and challenges, but he never lets those get in the way of his relationship with God. This new book "The Slippery Curse of the Blessed Life: Eighty Poems, Inspirational Reflections, and Helpful Spiritual Nuggets" reflects the obstacles he has faced, including a leg amputation and protracted dialysis, and how he kept Christ at the center of it all. Emens' book shares a message that there is peace and joy possible in God regardless of difficulty, tragedy, or challenging circumstances.
"The Slippery Curse of the Blessed Life" shares scriptural strategies and life lessons with the hope of helping believers grow spiritually, while gaining a more intimate knowledge of God and his ways. The author touches on a variety of topics: simple spiritual insights, why it is important to praise God in all seasons of life, and many more. Emens hopes that this book will inspire readers to build a stronger and deeper relationship with God so that they can see how much it changes their lives.
"I wanted my book to encourage readers to seek a strong relationship with God and to personally seek Him out in good times as well as challenging ones," said Emens. "The comfort is knowing He is always there."
The book includes a collection of inspirational poems, reflections, and spiritual nuggets that encourage the reader to dive deep into God's word and explore all that it has to offer. Emens believes that his book will be inspiring, not only to seasoned Christians, but also to those just discovering their faith.
"The Slippery Curse of the Blessed Life: Eighty Poems, Inspirational Reflections, and Helpful Spiritual Nuggets"
By John D. Emens, Ph.D.
ISBN: 9781664244726 (softcover); 9781664244733 (hardcover); 9781664244719 (electronic)
Available at WestBow Press, Amazon and Barnes & Noble
About the author
John D. Emens, Ph.D., graduated from Kenyon College, where he was a four-year, All-American athlete. He earned a master's degree from The London School of Economics, a doctorate from Miami University, and attended seminary at the Methodist Theological School in Ohio. Dr. Emens is a retired Ohio State University professor who lives in Marion, Ohio, with his wife and two dogs. This is his fourth book. To learn more, please visit http://www.westbowpress.com/en/bookstore/bookdetails/825644-the-slippery-curse-of-the-blessed-life