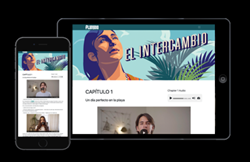 The cost of supplying digital readers is practically nothing. There is no need to charge even as much as a dollar a student.
CHICAGO (PRWEB) July 16, 2020
A group of authors is providing near-free Spanish readers to embattled teachers who are required to teach remotely. The library of online readers from recognized authors is accessible by computer or smartphone.
Low word count readers, also known as comprehensible input readers began taking off as a staple in Spanish secondary school instruction after 2017. Generally pricey, a class set of 30 can easily cost over $200. In spite of high cost, usage of Spanish readers is growing each year according to experts.
The Covid 19 crisis, requiring teachers to teach students online, created a sudden surge in demand for digital Spanish readers. The response by publishers of Spanish readers has been mixed. There have been cases of price gouging during the crisis. Some publishers are offering digital class sets as high as $400 for a class set.
A group of 15 to 20 Spanish Reader authors have volunteered to have their readers included on a special "Flangoo" website, giving teachers access to 20 readers in both text and audio for all of their students. The site, according to Steve Giroux, "Is sort of like Netflix for readers. The cost of maintaining flangoo.com is minimal, so access to the entire library of readers is under a dollar a student."
He notes, "The cost of supplying digital readers is practically nothing. There is no need to charge even as much as a dollar a student."
Says Skip McWilliams of Teacher's Discovery who administers the program, "This is not the time for profiteering, this is the time to give back."
"We are enthusiastic about the support from authors." He adds, "With 20 already, and more joining the program each month, we project Spanish teachers having over 40 readers at teacher's fingertips."
"I remember the afternoon when Steve Giroux first proposed the idea," says Skip McWilliams. "He saw innovative pioneers working tirelessly to show the educational community the practical superiority of well crafted readers. But Steve noted that budgetary constraints at the school level have kept readers out of the hands of the vast majority of students.
"Why not make them available digitally on the student's phones, tablets and computers? That shouldn't cost much at all. For less than the price of 30 copies of a single print reader, the teachers would be able to have twenty readers for all 150 kids."