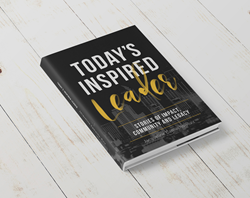 The authors who are featured in this book are people who I met throughout the years, who have inspired me and have believed in me. I have seen their journey and how they've created exponential success through developing legacy and elevating others.
OAK BROOK, Ill. (PRWEB) June 06, 2019
Twelve local, regional and international authors from the business and nonprofit world shared their professional personal stories of how they became leaders in their own right at the recent book launch for Today's Inspired Leaders held at Gibson's Steakhouse in Oak Brook.Today's Inspired Leaders is published by Fig Factor Media.
Spun with inspiration, priceless wisdom, and humor, Today's Inspired Leader is a collection of stories that depicts men and women at their best—achieving success, learning from failures, and finding the path to a life of significance within their work, families, and communities. By sharing the rich tapestry of their experiences within their personal and professional worlds, each leader opens readers' minds to possibilities within their own lives, and where they can journey if they let vision, grit, and faith lead the way.
The book is the brainchild of Jacqueline Camacho-Ruiz, owner of Fig Factor Media. Last year while attending a conference, she experienced a "divine download" which led to the book's creation.
"The authors who are featured in this book are people who I met throughout the years, who have inspired me and have believed in me," she said. "I have seen their journey and how they've created exponential success through developing legacy and elevating others. For me, as this is my 13th book, it is a pleasure and an honor bring these authors together for the first time as leaders to showcase them to the world."
During the event, guests met or learned of the following authors:

Mary K. Mathis, founder and CEO of Latinarrific, a company that provides an inspirational, transformational platform to help the American Latina be her best bicultural self
Jennifer Wilken, financial advisor for Edward Jones
Amy Wasson-Throw, President of the Amy Throw Group and creator of the Full Circle 7 approach to executive presence and leadership, which helps people to become powerful, respected leaders that others want to follow
Michele Kelly, co-founder and CEO of K+L Storytellers, a company compassionate about brand story and kick-A content for middle market companies
Brian Marshall, founder of Transformational Growth Partners (TGP)
Michelle Rohrer-Lauer, an award-winning interior and furniture design professional
Gabriela Rodil, award-winning entrepreneur, international speaker, author, and gifted CFO with expertise in the areas of financial strategy, systems management, and merger & acquisitions
Neli Vazquez Rowland, co-founder and pioneering architect of A Safe Haven (ASH), a social and economic development model that rebuilds the lives of people impacted by poverty, behavioral healthcare, substance abuse among other things
Jeff Kubas, founder and president of Vertex Resource Group
Jim Oberhofer, a sought-after crew chief in the National Hot Rod Association (NHRA) Circuit
Verónica Sosa, founder of Business Fit International, Business Fit Magazine and SHE (Seminar for Hispanic Entrepreneurs in Europe)
Jacqueline Camacho-Ruiz, CEO of JJR Marketing and The Fig Factor publishing house, 14-time author, international speaker, philanthropist and cancer survivor.
All of the authors have different ways of interpreting what makes someone a leader. For Marshall, a leader is someone who serves others.
"My personal mission statement as a leader is to motivate, mentor and inspire others to be great servant leaders," he said. "That's all I do whether its in the nonprofit or the for profit work that I do. I basically teach people how to be servant leaders."
For Vazquez Rowland, leaders are people who are experts, authentic, and confident in their ability to execute on their vision and mission.
"The best leaders attract others organically to be a part of their mission through their ability to communicate and crystalize an inspiring vision, and exude a sincere passion for what they are doing," she said. "They also have the ability to back up their words through their experience, expertise and track record for executing on a clear plan and strategy."
Wasson-Throw believes leadership is simply about influence.
"A leader must commit to modeling the behavior they seek from others, seeking ways to understand the unique make up of each person they lead and finding opportunities to let those people grow and learn and 'build their wings along the way,'" she said. "Leaders influence others to always do the right thing, even when it costs them something."
Today's Inspired Leaders is available for $19.95 on Amazon. For more information, visit http://todaysinspiredleader.com/.
About Fig Factor Media:
Welcome to Fig Factor Media, a different kind of international book publisher. We are an author-focused company that specializes in self-development, anthologies, business and children's books that bring messages of hope, inspiration and encouragement into the world. If you have a story, we can help you publish it. If you are already published, we can make you a star! Fig Factor Media will ignite your career as an author and offer proven methods to transform your mission into a movement. We help you define your passion to serve others and elevate the community, as well as impact the next generation with your story. We believe writing is an extension of your soul. For more information, visit http://figfactormedia.com/.