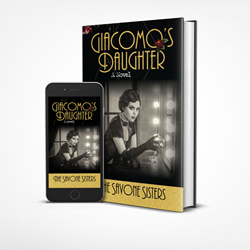 It was important, though, that our story reflected the realities of being married to the mob because being married to a murderer is never a fairytale.
LOS ANGELES (PRWEB) March 02, 2020
Authors and sisters, Rosanna Savone and Diana Savone, also known as the Savone Sisters, give a female perspective to their newly released novel, 'Giacomo's Daughter', about a young Italian Mafia wife swept into a dark, criminal underworld by a volatile mobster during Prohibition in the vibrant Detroit, Michigan of the 1920s.
Although Rosanna is an attorney and Diana is an actress, both authors are big fans of the traditional Mafia genre. Yet they always wanted to see a serious mob story told through the eyes of a woman. "Most Mafia stories I found with the female perspective boiled down to love stories or were even comedic in tone. It was important, though, that our story reflected the realities of being married to the mob," said Rosanna, "because being married to a murderer is never a fairytale. To do that would have felt like a disservice to women."
And that means 'Giacomo's Daughter' is far from a romance novel, despite its recent Valentine's Day release date. The Savone Sisters instead deliver a gripping yet unexpected portrayal of life as Mrs. Sofia Denaro, where nobody, including her over-protective father, Giacomo Spera, can keep her safe from the danger that comes along with her new husband, Max Denaro -- a top guy in the Scalici Squad, the most powerful Italian Mafia in Detroit. The notorious mobster had wanted Sofia since he first laid eyes on her singing on stage at the grand opening of the Book-Cadillac Hotel. To stay alive, Sofia uses the only weapons available to women during the Roaring Twenties: her smarts, her sexuality -- and her stellar aim. But, in doing so, Sofia also ignites the infamous Detroit Mob War.
The Savone Sisters' fresh take on the popular Mafia genre also includes the backdrop of Prohibition Detroit. Although there have been countless stories that take place in New York, Chicago, and Las Vegas, little is known about Michigan's "Whiskeytown." Set in the city where Henry Ford ignited the automotive boom, Detroit's rich Mafia history has largely been ignored, shedding light on the bootlegging history of the operation that supplied 75% of all alcohol to the entire United States. "We're originally from Michigan, so we were excited to showcase such an important and largely unknown aspect of our history," said Rosanna Savone.
'Giacomo's Daughter' also fits nicely into the rising trend called female rage novels -- stories about women who finally rise above their oppression. According to 'The New York Times' book critic, Parul Sehgal, "Novels and plays throughout history have starred women who insist on doing it their way. But never in such numbers as now." The main character, Sofia, does precisely that in an equally unique and satisfying way, giving female readers a fantastical outlet for a suppressed anger that has been simmering for decades. Sofia's journey essentially underscores the necessity of the 2017 #MeToo movement.
Women -- all of us -- have had to endure a society that let Harvey Weinstein, Jeffrey Epstein, and Bill Cosby get away with their abuse without consequences for decades. Sofia's story, however, follows a different, compelling, and ultimately fulfilling arc, much like a Quentin Tarantino film. "But our story also sheds light on the terrible situations we continue to put women in even until today. The point is Sofia should never have been put in this situation in the first place," said co-author Diana Savone. It's important to note that 'Giacomo's Daughter' comes with a trigger alert, letting readers know that it contains descriptions of sexual and physical violence some may find upsetting or traumatic.
This announcement has been made by the Savone Sisters' publishing company, Liv Luhv Rahyt. For a free excerpt, subscribe at the authors' website, TheSavoneSisters.com. 'Giacomo's Daughter' is now available online in hardback, paperback, and eBook versions at Amazon, Barnes & Noble, Apple Books, Google, Kobo, Indiebound, and Bam, among others. The Mafia genre continues to fascinate readers and audiences alike. But 'Giacomo's Daughter' takes the popular genre where it's never gone before.