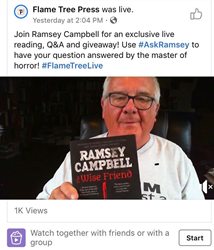 Right now, there are more ways than ever before to set books apart from others. Maybe it's an author's ability to get people talking on social media pages, sharing vivid illustrations or a moving excerpt that captures the attention of audiences when shared across digital platforms."
CHERRY HILL, N.J. (PRWEB) May 01, 2020
Smith Publicity, one of the leading book marketing and publicity firms in the world, today offered perspective on strategies for how to promote a book during the COVID-19 pandemic. Like many affected media businesses, both the traditional publishing industry and self-published authors are relying more heavily on virtual tactics – and finding success. As many areas of the country have been, and continue to be, on lockdown, authors and book marketing firms are finding ways to move forward with book publicity and promotion.
Most books recently released and currently being promoted were planned before the coronavirus outbreak necessitated a change in approaches. Therefore, today's publicity campaigns are creative adaptations that are reaching target audiences despite current limitations.
"There is no doubt shifts in our society related to COVID-19 have affected book promotion services," observes Sandy Smith, President, Smith Publicity. "But rather than looking at the required modifications as challenges, we're finding ways to view them as opportunities. Our publicists are putting some tactics to greater use."
It's widely understood that the current shifts in society are moving things online, and book promotion is adapting well to virtual campaigns. Even though much is changing, audiences of interested readers continue to seek information about books at steady or increasing rates. Smith advises all authors and publishers that while there are noticeable changes, there are new success stories every day. In many cases, with people furloughed at home, they have more free time to discover, buy, and read new books.
For Book Marketing Outreach, Swap Physical Books with Digital Copies
Smith says that now when sending books to potential reviewers – whether a trade publication or an online influencer – it's best to have a digital version ready to share. Because the vast majority of offices have gone virtual, hard copies of books sent to office mailing addresses are often being overlooked or never even received. "We're seeing media outlets—from the major trades to magazines and newspapers, to broadcast and beyond—all requesting digital copies of books as part of their submission processes," she says.
Therefore, during the COVID-19 era of publicity, book marketers and self-promoting authors need to have digital files of all books available. Electronic copies are increasing the chances of books being seen and considered by key media.
"Of course, there are still some outlets that prefer a hard copy, so it's a good idea to have those on hand, too," Smith says. "But with many reviewers working from home and frequent delays in shipping, digital is the predominant way we're working during these times."
Events Traditionally Held In-Person are Going Virtual with Success
Nearly all in-person book events are canceled for the foreseeable future. They include readings, signings, speaking or teaching opportunities, and launch parties. Many of these are enjoying success and strong attendance after being moved online. When held virtually, appearances by authors continue to be powerful and effective ways of reaching target audiences. Along with many others, the children's category is also adapting significantly. Children's authors who had scheduled school visits and library or bookstore story times are making themselves available online. For example, they are joining virtual classrooms and holding online children's events via Zoom – which are welcomed by parents trying to find enrichment activities for kids who are home from school.
Social media platforms are continuing in their customary roles for book promotion, and during the coronavirus crisis, are being used in expanded ways. For example, live readings on Facebook are finding interested audiences and are being promoted across platforms. Book publicists are helping business authors with scheduled presentations at meetings and conferences move those same talks online. In many cases, the virtual events have the same groups who had planned to be present in person.
Broadcast and Cable TV Interviews Go Virtual to Reach Audiences
With TV audience levels increased as more people are at home, broadcast interviews held virtually are being more widely used than ever. "Since authors aren't heading into a studio to record in-person, we are helping them appear by Skype or Zoom," Smith says. "In addition to our roles as publicists, we're reminding authors to set up or reactivate their accounts on these platforms. We're also advising everyone to practice on the required platforms before appearing for interviews. Nothing sinks an appearance faster than technical problems or mistakes that are easy to avoid with a bit of practice."
Smith Publicity has helped its authors find greater success in virtual interviews by taking them as seriously as in-person appearances. Areas of focus have included dressing professionally and making sure to pick spots at home that are neat, well-lit, and free of background noise.
"Authors also need to make sure to have any props they'll need, for example, a copy of their book before the interview begins," Smith advises. "Our publicists have new interview checklists for interviews from home – and we're working with producers digitally to make sure they have all needed materials in advance as always."
During the COVID-19 Era, as Always, Creativity and Knowledge Bring Success
"At Smith Publicity, we often find success by inventing and perfecting new virtual book promotion methods," Smith points out. "Right now, there are more ways than ever before to set books apart from others. Maybe it's an author's ability to get people talking on social media pages, sharing vivid illustrations or a moving excerpt that captures the attention of audiences when shared across digital platforms." Also, during nearly all times of uncertainty, the helpful and well-informed voices of authors become more valued on radio and television (and podcasts). "In the end, so much of our world, so many of our connections, and countless opportunities are already online," according to Smith. "What we're doing to promote books during COVID-19 is to meet even more people by virtual means."
About Smith Publicity
Smith Publicity is the most prolific book marketing and book publicity agency in the publishing industry, with over 4,000 books promoted since 1997. From promoting first-time, self-published authors to working with major traditional publishers, Smith Publicity is a true "equal opportunity" book marketing firm. Contact us at info@smithpublicity.com