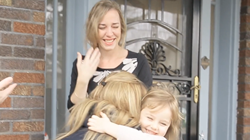 Wilmington, Delaware (PRWEB) May 19, 2017
In a continuous effort to raise awareness of autism and common toxins found in the home, PlushBeds, a luxury online mattress company that specializes in natural and organic latex mattresses, has announced that they will donate $1 to the Autism Society (the nation's leading grassroots autism organization) for every unique share their recent viral Facebook video receives, up to $10,000.00.
The luxury online mattress company is on track to hit the $10,000 donation mark soon, and is requesting help to spread the word.
The video, which received over 50,000 views in just a few short hours after its release, highlights Amanda, a mother of two-year-old twins, who were recently diagnosed with autism and respiratory issues. Amanda had concerns over her childrens' health in relation to harmful household chemicals.
The twins' pediatrician recommended toxin-free, natural mattresses, since toxins in their environment could inhibit her childrens' progress, and impair their already struggling immune and neurological systems. Amanda did some research and contacted PlushBeds, as they came highly recommended for their natural and organic mattresses. Amanda revealed that she was forced to leave her job to care for her boys, and that natural, toxin-free mattresses were currently out of her budget. She bravely shared her story, and asked PlushBeds to help her find a solution to provide healthier and toxin-free sleep for her children.
For the full story and video, you can visit this blog post, recapping the experience: http://plushbeds.life/amandas-story_pr
To share the Facebook video and help reach the $10,000.00 share goal, please go here: http://plushbeds.life/amandas-story-pr
About PlushBeds: PlushBeds is a leading manufacturer and online retailer of natural and organic latex mattresses, adjustable beds, and other specialty sleep products. All of PlushBeds' mattresses are GreenGuard Gold Certified, a certification that embodies the world's most rigorous, third-party chemical emissions standards. At Gold level certification, PlushBeds mattresses prove beneficial to everyone, but especially children and the elderly, as they are certified to have low chemical emissions, improving the quality of the air in which they are used. PlushBeds' mattresses are endorsed by multiple third-party organizations, and they have garnered a multitude of 5-star customer reviews.