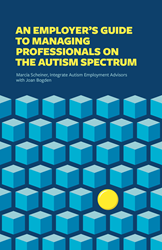 '...a must read for any organization embarking on the neuro-diversity journey.' - Michael Fieldhouse Dandelion Program Executive, DXC.technology Adjunct Professor Cyber Security, La Trobe University
New York, New York (PRWEB) August 29, 2017
Today 35% of eighteen year olds with an autism spectrum diagnosis (ASD) attend college, yet only 15% are finding and maintaining employment commensurate with their education and skill levels. Hiring college graduates with autism can benefit employees, employers, and companies, without incurring additional expense. Research released by the Bankwest Curtin Economic Centre in Australia shows this group of underutilized candidates performed at above average levels in attention to detail, work ethic, and quality of work. Attracting and retaining this untapped talent pool can provide a competitive advantage for employers, but it can be difficult for individuals with no formal training to manage these employees successfully.
To help employers successfully manage and retain employees on the autism spectrum, Integrate Autism Employment Advisors announces the publication, "An Employer's Guide to Managing Professionals on the Autism Spectrum." This book is designed to help managers and colleagues successfully interact with and support professionals on the autism spectrum to ensure mutual success.
"An Employer's Guide to Managing Professionals on the Autism Spectrum" stands out for its comprehensive and contemporary presentation of information. Its delivery of crisp situational guidance makes it unique and especially useful in today's competitive landscape, where employers are looking to tap into this unexplored talent pool. "I highly recommend this book to be not just read once, but at the ready for managers to create a strong work environment and elicit great performance from those who are on the spectrum," says James Mahoney, Executive Director, Head of Autism at Work, JP Morgan Chase & Company.
Integrate uses its expertise to advise employers on how to identify the everyday challenges faced by employees with ASD in the workplace and provide reasonable, practical solutions for their managers and colleagues. Barriers to productivity are highlighted, such as miscommunication, inadequate training of colleagues, and the sensory environment. Easy-to-implement strategies to adapt the working environment are provided, such as agreeing on non-verbal cues to signal ending a conversation or establishing parameters for appropriate email length. This book is an essential resource for anyone who works with professionals on the autism spectrum. It provides the basic knowledge needed to engage with and support colleagues on the autism spectrum in a respectful way and to empower them with a greater level of working success.
"Marcia Scheiner and Joan Bodgen's excellent book is a very valuable guide to the challenges that people with autism face in the workplace, balanced with the assets and gifts that they bring to the workplace. In turn, the employer will benefit from the talents in people with autism, in excellent attention to detail, perfectionism, going the extra mile, and innovative ways of looking at information," adds Professor Simon Baron-Cohen, Director, Autism Research Centre, Cambridge University.
Integrate Autism Employment Advisors (http://www.integrateadvisors.org) is a 501(c)(3) whose mission is to help companies identify, recruit and retain professionals on the autism spectrum. Integrate's goal is to increase inclusive competitive employment for college graduates with autism.