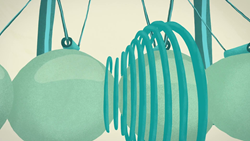 Alexander and Marisabel rose to the top in a highly creative and competitive entry field with an extremely sensitive interpretation of the world seen through the eyes of a young autistic child
Sarasota, FL (PRWEB) October 13, 2014
Ringling College of Art and Design today announced that Ringling College of Art & Design students Marisabel Fernandez and Alexander Bernard have won Grand Prize in the 2014 Adobe Design Achievement Awards with their senior thesis film 'Listen,' which seeks to interpret life through the eyes of a non-verbal autistic child and her constant struggle to cope with the world around her. They also won top honors in the editing and post production category.
Link to ADAA Grand Prize-winning video 'Listen': https://vimeo.com/103896616
The 2014 Adobe Design Achievement Awards (ADAA) honor the most talented student graphic designers, illustrators, animators, filmmakers, developers and computer artists worldwide. Marisabel Fernandez and Alexander Bernard's Grand Prize-winning entry stood out in a field in which over 4,400 submissions were received from representing 70 countries and 1,500 universities and colleges. As category winners Marisabel and Alexander receive $2,000 cash, a 24-month membership in Adobe's Creative Cloud, a one-year mentorship with a design leader and an appointment to an Icograda Youth Advisory Panel. As Grand Prize winners they also receive $3,000 cash and access to the 2014 ADAA Awards in Los Angeles.
"Alexander and Marisabel rose to the top in a highly creative and competitive entry field with an extremely sensitive interpretation of the world seen through the eyes of a young autistic child," said Tacy Trowbridge, Adobe Education Programs Lead. "We are very proud to recognize their achievement and help showcase the power of visual storytelling as an agent for social awareness and benefit."
"The entire Department of Motion Design at Ringling College is so proud of our recent graduates Marisabel and Alex," said Ringling College Department Head of Motion Design Ed Cheetham. "Their project started with a strong vision and commitment to helping others better understand individuals with autism. Their creativity, passion and hard work is apparent in this project, and we are so pleased that it has been recognized by receiving this Adobe Design Achievement Award."
"When I was younger, I remember having this immense fear of Autism. I was afraid of it because I couldn't understand it," said Alexander Bernard. "Since then, the fear had subsided but my interest hadn't. I still wanted to know more and when Marisa and I discussed potential subjects for our film, Autism seemed to be a relevant connection between the two of us. We realized that we each have our own perspective on reality and those with Autism experience reality in their own way. Suddenly it became a question of why we do we try and pull those with Autism out of their own reality to be in ours. People still don't understand Autism despite its growing presence in this world."
"As we researched deeper into Autism, we began to uncover the incredible world that it is; and the level to which those with this condition have become completely alienated from society, not only socially but even something as essential as health care has been an ongoing battle for the autism community," Marisabel Fernandez stated. "We realized the ignorance we ourselves had towards a topic as important as this one, and felt we needed to share this story with as many as we could, to not only inform society of what these people have to go through, but create more tolerance and understanding."
About Ringling College of Art and Design
Ringling College of Art and Design is a private, not-for-profit, fully accredited college offering the Bachelors of Fine Arts degree the following disciplines: Advertising Design, Computer Animation, Film, Fine Arts, Game Art, Graphic Design, Illustration, Interior Design, Motion Design, Painting, Photography & Imaging, Printmaking, and Sculpture, and a Bachelor of Arts degree in the Business of Art & Design. Located on Florida's Gulf Coast, the picturesque 48-acre campus enrolls nearly 1,300 students from 44 states and 50 countries.