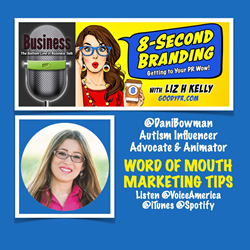 "I help my community unleash their creative voices, provide a pathway to employment and elevate their self-esteem. Anything is possible. If I can do it, they can do it." – Dani Bowman, Autism Animator and DaniMation Entertainment Founder
SANTA MONICA, Calif. (PRWEB) April 02, 2021
In sync with Autism Awareness Day (April 2, 2021), Autism Influencer and Animator Dani Bowman will share her Word-of-Mouth Marketing Secrets on the 8-Second Branding Podcast with Host Liz H Kelly on the VoiceAmerica Business Channel, all other major podcast platforms, and YouTube. During this inspiring interview, Bowman highlights how she organically builds brand buzz through social media marketing posts about her community, partnerships, film premieres, classes, and awards.
Bowman strives to be the Temple Grandin of her generation by breaking barriers, and making a difference as a role model, mentor and employer. Leading teams of autistic animators, Bowman has premiered nine animated short films at San Diego Comic-Con International over the past seven years. She's also premiered a PSA for the Autism Society of America and animated music video "Be a Friend."
As a social entrepreneur who started her animation company at age 14, Bowman has taught classes to 2000+ youth on the autism spectrum and other abilities worldwide at Joey Travolta's Inclusion Films, "Animation Gets Real" classes in Florida and her DaniMation Entertainment programs.
Bowman's goal is to empower her community with job skills and reduce the "grim" statistic that 90% on the autism spectrum are either unemployed or under-employed in the U.S. (according to the U.S. Bureau of Labor Statistics.) To help employ others on the spectrum, Bowman received a SparkAction grant, which was presented by Jon Bon Jovi at the White House Youth Summit in 2012.
After completing her MBA, Bowman is currently working on getting a Ph.D., studying the impact her program has had in the autism community. Her work has been featured in the Los Angeles Times, Animation World Network, OC Weekly, BBC Spotlight Evening News (DaniMation UK) and more. Follow on Twitter @DaniMationEnt on Facebook @DaniMationEnt and visit DaniMationEntertainment.com
WHERE TO LISTEN
Listen here, starting April 2, 2021:
How Autism Influencer and Animator Dani Bowman builds Brand Buzz with Word-of-Mouth Marketing
https://www.voiceamerica.com/episode/129411/how-autism-influencer-and-animator-dani-bowman-builds-brand-buzz
ABOUT 8-SECOND BRANDING PODCAST
To help brands better define their Wow Story in a clear, concise and compelling way, Goody PR Founder and "8-Second PR" Author Liz H Kelly interviews successful business leaders and authors about their marketing and public relations tips. Using the same superpowers of an unstoppable superhero, the 8-Second Branding Podcast helps brands be a force for good, build loyal fans and ultimately increase sales. Tune in for new shows regularly on the VoiceAmerica Business Channel. http://goodypr.com/8-second-branding/
MEDIA CONTACT:
Liz H Kelly
Goody PR
310-987-7207