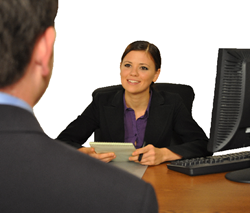 We hope that this training program can improve the employment potential for persons with autism spectrum disorder.
Columbia, MD (PRWEB) May 15, 2014
"The job description said weekends were required. Do I really have to work weekends? I'd rather not."
"I can't really see myself working at any job long term."
"Why did I apply? Because you were hiring."
Job interviews are a chance for candidates to present themselves in a good light, or, as in the statements above, to damage their prospects by making a bad impression. These complex social interactions are particularly difficult for people with autism, who have lower rates of employment than almost any other category of people with disabilities, according to the National Center for Special Education Research.
"Adults with an autism spectrum disorder tend to have difficulties with social communication, which may interfere with them having a successful job interview," said Matthew J. Smith, PhD, a research assistant professor of Psychiatry and Behavioral Sciences at Northwestern University Feinberg School of Medicine.
To respond to the employment crisis among adults with autism, SIMmersion developed Job Interview Training with Molly Porter, a virtual reality training system designed to help build interview skills and confidence for people with autism and other serious mental illness. The system was funded by the National Institutes of Mental Health (Grant R44 MH080496) and has been profiled across the media, from Fox News to Today.com. New research by Dr. Smith published in the Journal of Autism and Developmental Disorders found that users with autism who trained with SIMmersion's system saw significant gains in skills and confidence relative to a control group without the training.
The heart of the training is a simulated interview with Molly Porter, a virtual Human Resources manager ready to ask over a thousand common interview questions. Interactions with Molly are powered by SIMmersion's PeopleSim conversation engine, which gives her lifelike emotional responses and different interview styles that vary from play to play. If users answer her questions in ways that match the teaching objectives, Molly's demeanor will become warmer and more encouraging as the conversation progresses. If users choose answers that damage their job prospects, however, Molly will become more matter-of-fact or even brusque.
Molly's reactions give trainees immediate feedback on the appropriateness of their answers. An on-screen coach provides additional constructive support through non-verbal feedback and advice on demand. After completing an interview, users see a detailed score breaking down how well they did on vital interview skills, like showing professionalism and expressing interest in the job. A color-coded transcript of the conversation, with positive choices displayed in green and negative choices in red, lets users see at a glance where they excelled and where their approach still needs work. By providing repeated, realistic practice with Molly and immediate feedback on how to improve, the system helps users build lasting skills.
Dr. Smith and his team at Northwestern set out to study the system's effectiveness at improving job interview skills and confidence. They recruited 26 participants with an autism spectrum disorder who were currently unemployed and seeking work. All trainees answered questions about their confidence at interviewing and completed a series of role-play job interviews with a trained actor playing a human resources employee. Their baseline interview skills were scored by trained raters with HR expertise. Ten of the participants were then put on a "wait list" to receive access to Molly until after they completed the study. The other 16 participants trained with Job Interview Training with Molly Porter for two weeks, practicing 15 to 20 simulated interviews.
At the end of the two weeks, the two groups completed a second series of job interview role-plays. The raters who scored their performance were unaware who had trained with Molly and who had been on the wait list. The group that trained with SIMmersion's system showed an 11% improvement in skills, relative to only a 1% improvement in the control group. Self-confidence increased even more dramatically, with the simulation group showing a 22% jump in confidence in their interview abilities while the control group increased by 7%.
"We hope that this training program can improve the employment potential for persons with autism spectrum disorder," said senior study author Michael Fleming, MD. The initial research on this intervention is promising for the employment prospects of people with autism nationwide.
About SIMmersion
SIMmersion's mission is to train communication skills faster and more effectively by combining the world's most realistic simulated experiences with highly interactive training content and extensive user feedback. For more information, visit http://www.simmersion.com.
For a free trial of Job Interview Training with Molly Porter, visit http://www.jobinterviewtraining.net.