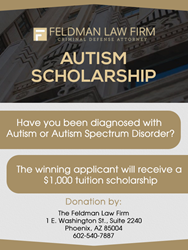 PHOENIX (PRWEB) January 15, 2021
The Feldman Law Firm, a Phoenix law firm, has announced that the firm will once again be offering a $1,000 scholarship for individuals with Autism Spectrum Disorder (autism/ASD). The scholarship will be applied toward payment of tuition at a college or at a trade school selected by the winner. Whether you are currently enrolled in school, or if you are currently on an academic break, but anticipate continuing your education in the near future, you may apply for the scholarship.
The aim of the scholarship is to provide an added incentive to those diagnosed with ASD who might otherwise cease their formal educational activities. Tuition assistance, the firm anticipates, will provide this incentive, and thereby help those who apply to move forward with and reach their educational goals.
Anyone with questions about the application, including eligibility, or who would like to learn more about the firm's scholarship program, should visit our website, which contains the online application, and further information about the process, submission dates, our privacy policy, etc. The deadline for applications is February 18, 2022. The name of the winner will be announced not later than March 4, 2022.
Questions concerning the application and related matters may be directed, by email if possible, to the firm as follows:
Feldman Law Firm
1 E. Washington St., Suite 2240
Phoenix, AZ 85004
602-540-7887
michael@afphoenixcriminalattorney.com