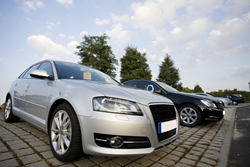 BROOKLYN, N.Y. (PRWEB) July 01, 2020
For anyone contemplating buying a new or used car, now is the time to buy. May 2020 saw rates as low as 4%, but for buyers getting in the game a little late, rates are still very low. Edmunds, an industry leader in auto research, reports that May 2020 APR was as low as 3% for 47% of buyers, but that these deals will disappear as the summer goes on. June also saw an increase in the number of junk car sales as interest rates decrease, and Rusty's Auto Salvage reports a boom since the earlier months of the year.
June buyers can expect rates around 4.7% for new vehicles and 5.3% for used cars. Assuming this trend continues, July rates will be higher than this. So for customers looking to buy a new car soon, it's best to jump on these rates as soon as possible.
Many auto dealers are also extending 0% finance offers. While a peak was hit in April 2020, buyers can likely still expect these offers to continue into the summer. May saw 0% finance deals on 24% of all auto purchases, down from 25.8% in April. Buyers may see this continue into June and July with low finance offers on many desirable new and used vehicles.
"Consumers who purchased a car in May got to take advantage of some of the best deals we've ever seen, thanks to a combination of Memorial Day weekend sales and generous incentives offered by automakers to spur demand during the pandemic," said Edmunds executive director of insights Jessica Caldwell. "Even with 0% finance deals down slightly, more car shoppers got better financing rates than usual."
July is likely to be a good month for finance and APR deals with Independence Day sales upcoming. May saw great deals due to Memorial Day sales combined with pandemic concerns urging sellers to offer attractive incentives. As the pandemic continues into the summer, auto sellers are likely still pushing great deals to spur purchasing. Combined with summer holidays, buyers could walk away with a great deal.
The later summer months may also see a diminishing supply of vehicles, as production has halted in many factories due to coronavirus shutdowns. Buyers may find better deals in used car dealerships, as many sell their vehicles to make room for new ones or as they find themselves traveling less in the wake of quarantine restrictions.
Edmunds also reports that the length of auto loans that buyers are committing to has been increasing lately, with May loan terms averaging 71.4 months. These long loans may signify that buyers are willing to endure longer payment periods for the cars they want right now. This is up from an average of 60 month loans in July 2019.
"Car shoppers are showing that they're comfortable committing to longer loans to get the vehicles that they want right now, especially with the ongoing availability of 0% deals," said Caldwell. "But these incentives aren't going to last forever. It's going to get tougher for car shoppers to find good deals as inventory declines over the new few months."
June also saw rising prices for junk car sales for Rusty's Auto Salvage. With lowering interest rates, cash purchases of lower cost cars, like what Rusty's buys, are more attractive to sellers. As construction ramps up in summer months, the price of steel goes up and the value of junk cars follows.
Rusty's Auto Salvage is also selling our cars to buyers. Those looking to recondition an old vehicle or to salvage a car for parts may find the offers at Rusty's to meet their budgets. The current resale market for low end cars is booming, as people are taking advantage of low APR on new cars and need to dispose of their old vehicles.
Those looking to buy a used car now may be unsure of what to do with their old cars. Some may try to sell to private buyers or used dealership, but for a hassle-free selling process, Rusty's Auto Salvage is ready to purchase used and junk vehicles.