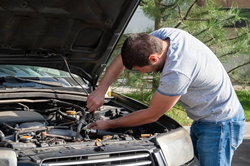 For all the convenience of internet shopping with the ease of in-store pickup and returns, you simply can't beat Advance Auto Parts
OVERLAND PARK, Kan. (PRWEB) December 11, 2020
TopConsumerReviews.com recently gave a best-in-class 5 star rating to Advance Auto Parts, a leader among online sellers of Auto Parts.
As people have been spending more time at home, DIY auto repair has taken off in popularity, making it necessary for amateurs and professionals alike to have a reliable source of auto parts. While local brick-and-mortar stores might have what customers need, there's no guarantee that they'll have the specialty parts, OEM electronics, or aftermarket upgrades that shoppers want on any given day. Fortunately, it's easy and affordable to find the right auto parts online, often at prices that are well below their retail store competition. And, some stores make it risk-free to buy auto parts online by offering generous return policies that even cover "oops" purchases that aren't a match or that don't fit or work as expected.
"For all the convenience of internet shopping with the ease of in-store pickup and returns, you simply can't beat Advance Auto Parts," according to Brian Dolezal of TopConsumerReviews.com, LLC. "Their online store is extremely user-friendly, helping you find the right auto parts in just a few clicks. Plus, Advance Auto Parts offers many ways to save money, ranging from their frequent promotional discounts to their Speed Perks rewards program. With nearly 5,000 retail locations, this store gives you plenty of options for pickup and delivery, or for taking advantage of their 45-day return policy. For all of these reasons, we're excited to name Advance Auto Parts as our newest first-place winner among retailers of Auto Parts in 2020."
To find out more about Advance Auto Parts and other online retailers of Auto Parts, including reviews and comparison rankings, please visit the Auto Parts category of TopConsumerReviews.com at https://www.topconsumerreviews.com/best-auto-parts-stores/.
About Advance Auto Parts
Advance Auto Parts, Inc., is a leading automotive aftermarket parts provider that serves both professional installer and do-it-yourself customers. Advance operates almost 5,000 stores and 167 Worldpac branches in the United States, Canada, Puerto Rico and the U.S. Virgin Islands. The Company also serves 1,262 independently owned Carquest branded stores across these locations in addition to Mexico, the Bahamas, Turks and Caicos and British Virgin Islands.
About TopConsumerReviews.com
TopConsumerReviews.com, LLC is a leading provider of reviews and rankings for thousands of consumer products and services. From Auto Parts to Auto Warranties and Vehicle Inspection Services, TopConsumerReviews.com delivers in-depth product evaluations in order to make purchasing decisions easier.