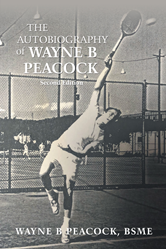 "Cogitating on the past is one of my favorite pastimes," Peacock said, before he died. "Reliving and savoring the past with its poignant lessons became so engrossing that I decided to write my autobiography before my memory fades, as I am told is inevitable."
EAST GREENWICH, R.I. (PRWEB) November 14, 2022
How many people wish they had a way to look back on their life and preserve their story for future generations? Wayne B. Peacock took the initiative and got everything on paper, prior to passing away at the age of 83.
In "The Autobiography of Wayne B. Peacock," Peacock provides readers a look inside the first 62 years of his life. From growing up in Wisconsin, to his tennis career, military service and his life overseas, this personal look back at his life story reflects Wayne's perpetual curiosity, can-do optimistic outlook and playfulness, as well as his accomplishments and failures.
"Cogitating on the past is one of my favorite pastimes," Peacock said, before he died. "Reliving and savoring the past with its poignant lessons became so engrossing that I decided to write my autobiography before my memory fades, as I am told is inevitable."
Peacock had a great love of sports, and though his early glory was on the tennis court, he later took up road racing. His memoir touches upon these activities, as well as golf, curling, football and more. But according to his story, his real talent was encouraging others.
This trait was evident from the outpouring of condolences from individuals that Wayne inspired along the way. Friends, colleagues, teammates, and clients all shared how he had changed their lives by inspiring them to believe in themselves.
"Without the support, advice and friendship that Wayne gave me, I would have missed out on a 21-year career that ranks as some of the best times in my working life," said Mike Wright, a former associate.
"The Autobiography of Wayne B. Peacock"
By Wayne B. Peacock, BSME
ISBN: 9781546266440 (softcover); 9781546266433 (hardcover); 9781546266426 (electronic)
Available at AuthorHouse, Amazon and Barnes & Noble
About the author
Wayne B. Peacock was born in 1938 in Milwaukee, Wis. He received his B.S. in Mechanical Engineering from the University of Michigan. He moved his family to England for work in 1971. After returning to the states, Peacock eventually settled in Rhode Island with his wife and children. To learn more, please visit http://www.authorhouse.com/en/bookstore/bookdetails/777431-The-Autobiography-of-Wayne-B-Peacock.