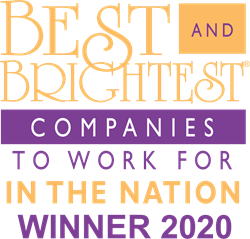 We want working for ABD to not just be a job, but a rewarding home to cultivate their career."
CHICAGO (PRWEB) September 17, 2020
Automated Business Designs (ABD), developers of Ultra-Staff EDGE staffing software, was named one of the Nation's Best and Brightest Companies to Work For® in 2020. This distinguished honor is the fourth consecutive year that ABD has been recognized by the National Best and Brightest program. In June, the software company was also recognized as one of Chicago's Best and Brightest Companies to Work for in 2020.
The competition identifies and honors organizations that display a commitment to excellence in operations and employee enrichment that lead to increased productivity and financial performance. With over 20 years of experience conducting the Best and Brightest competitions, the National Association for Business Resources (NABR) have identified numerous best Human Resource practices and provided benchmarking for companies that continue to be leaders in employment standards.
The national program celebrates those companies that are making better business, creating richer lives and building a stronger community as a whole. The Summer Best and Brightest National winners honored 147 winning organizations from across the country out of 1,300 nominations. ABD's nomination included details of their comprehensive benefits package, employee education programs, employee recognition, charity work, and innovative company culture.
"We are ecstatic to be recognized as a 2020 National Best and Brightest Company to Work For," said John Roeslmeier, Vice President, at Automated Business Designs. "Every year our goal is to invent new ways to help our employees grow both professionally and personally. We want working for ABD to not just be a job, but a rewarding home to cultivate their career."
Automated Business Designs will be honored during the virtual Illuminate Business Summit in October, 2020. All recognized companies will also be featured in the online edition of Corp! Magazine.
To learn more about Automated Business Designs and Ultra-Staff EDGE staffing software, visit https://www.abd.net.
Details about the Best and Brightest Companies to Work For® program are available at https://thebestandbrightest.com/.
About Automated Business Designs
Automated Business Designs (ABD) produces the staffing and recruiting software solution, Ultra-Staff EDGE. Designed for temporary, direct hire, and medical staffing, Ultra-Staff EDGE allows you to seamlessly stay connected with clients and candidates through a robust all-in-one solution that includes front office, back office, web portals, data analytics, and mobile. ABD has been servicing the staffing industry for 37 years and is an active member of the American Staffing Association (ASA), National Association of Personnel Services (NAPS), Wisconsin Association of Staffing Services (WASS), New York Staffing Association (NYSA), and board member status in the Illinois Search and Staffing Association (ISSA).