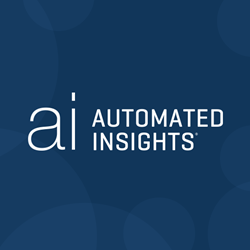 "We're committed to supporting our clients and meeting the needs of their diverse industry requirements for sensitive information to be secure. This is just one way we can illustrate to our clients that what matters to them, matters to us."
DURHAM, N.C. (PRWEB) February 07, 2019
Automated Insights​, the leading natural language generation provider for business intelligence, announces the issuance of their first System and Organization Control (SOC) 2 Type II report. This milestone in their dedication to client data protection comes six months after issuing their SOC 2 Type I report.
The System and Organization Control reporting requirements were developed by the American Institute of CPAs (AICPA) based on five categories of trust services criteria associated with security, availability, processing integrity, confidentiality, and privacy of customer data. The SOC 2 report applies to technology-based service organizations that store customer data in the cloud and is a comprehensive technical audit that provides a framework to evaluate information security policies and procedures. Automated Insights' report covers the security, availability, processing integrity, and confidentiality trust services criteria. Automated Insights' service commitments and system requirements were achieved based on the trust services criteria relevant to security, availability, processing integrity, and confidentiality.
"Issuing our first SOC 2 Type II report displays our diligence to deliver on our promises of data security," says David Ivy, Director of Engineering and Security Officer at Automated Insights. "We're committed to supporting our clients and meeting the needs of their diverse industry requirements for sensitive information to be secure. This is just one way we can illustrate to our clients that what matters to them, matters to us."
Automated Insights has worked with sensitive data in highly regulated industries, including healthcare, government, and finance, for over a decade. The SOC 2 Type II report is a written form of assurance demonstrating the company's commitment to data security best practices. It goes substantially beyond the Type I report to state that controls have been designed, implemented, and operated effectively over a period of time to meet the Trust Services Criteria developed by the AICPA. The report also asserts Automated Insights' description of the provided system is accurately stated and addresses the specific disclosure criteria as mandated by AICPA.
"We're not required to issue a SOC 2 Type II report, but we choose to go through the voluntary, months-long process conducted by outside auditors because security and transparency are at the forefront of who we are as a company and in the relationships we want to maintain with our clients," says Ivy. "We hold ourselves to the highest industry standards."
With the issuance of their SOC 2 Type II report, Automated Insights promises clients they will take steps to protect against unauthorized access or changes, ensure data is available according to service-level agreements, perform transactions correctly, protect confidential information in their system, and handle personal data appropriately. As a SaaS-based natural language generation provider with smart data management, Automated Insights empowers organizations to more readily understand and act on their data without compromising security. For more information, visit https://automatedinsights.com/security/.
About Automated Insights
Established in 2007 and headquartered in Durham, N.C., Automated Insights is the creator of Wordsmith, the world's first self-service natural language generation platform for business intelligence. Automated Insights empowers organizations to generate human-sounding narratives from data, making it easy to produce real-time, written analytics, personalized reports, and stories at scale. Wordsmith is utilized by companies such as Allstate, Associated Press, Cisco, and NVIDIA to increase organizational data literacy and broaden adoption of business intelligence software. For more information, visit our website and follow us on LinkedIn, Twitter, and Facebook.