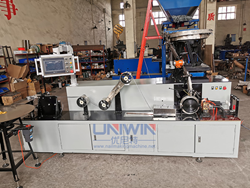 Uniwin Machinery, Nail Making Machine Expert in China!
ZHENGZHOU, China (PRWEB) January 07, 2020
Compared with the traditional coil nail making machine, the new design fully automatic coil nail making machine has the auto rubber band holding function which can save labor a lot. The auto rubber holding device will wrap the rubber bands to the nail coils automatically, no need workers to sit beside the coil nail machine to wrap the rubber bands manually by hands.
The advantages of Uniwin brand coil nail welding machines:
1. High Speed, speed up to 3000 pcs per minute, however, the traditional coil nail collator speed only around 2000 pcs per minute.
2. Labor-saving, very convenient for operation.
3. Big vibration feeder bowl to ensure the stable running of the nails feeding.
4. Automatic detecting the lack of nails feeding, the missing of nails when welding, counting, etc, and every step visually on the screen.
After 1 year of research by the Uniwin technical team, they finally made the automatic rubber band wrapping function successful.
After testing and testing this new function, now it becomes stable working.
Uniwin Machinery sent 2 coil nail collating machines to their old customers which are located not far from their factory, after 6 months running in their factory and some updates, now the technology is very mature. The coil nails made by this coil nail welding machine is good shape, round coils. Their old customers give it high praise, it can help a lot with their production and improve efficiency as well as save a lot on labor costs.
The working principle and the process of making the nail coils are:
1. Thread the smooth wire nails by high-speed thread rolling machine to get ring shank, screw shank or spiral shank nails.
The parameter of the UNIWIN brand high-speed thread rolling machines:
Length Range: 25-100mm
The Diameter of Thread Rolling:1.9-4.5mm
Output: 1800-2000 pieces/min
Motor Power: 7.5 kW
Total Power: 9.7 kW
Machine Size: 1200*1200*1400mm
Weight: 1300kg
This type thread rolling machine is also the new design high-speed type for the fully automatic rubber band wrapping coil nail collator, the speed can reach 1800-200 pcs per minute, which already reached the same level as European made machines.
2. Put the loose ring shank or screw shank nails into the vibration bowl, then the nails will be placed in order through the rail into the coil nail machine welding unit, then the nails well be welded by the copper-coated coil nail welding wire 0.6 or 0.7mm or 0.8mm then roll up into nail coils.
Uniwin Machinery, Nail Making Machine Expert in China!
Zhengzhou Uniwin Machinery and Equipment Co., Ltd.
Skype: vansessa121212
WhatsApp: 0086 15036110423
Email: sophia@nailmakingmachine.net
Website: https://www.nailmakingmachine.net