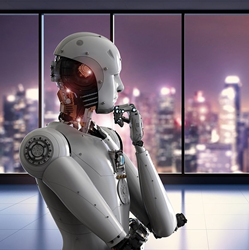 While essential, data governance can also prove complicated and time-consuming. Automating data governance saves time and money, simplifies regulatory compliance, and improves decision making.
HOBOKEN, N.J. (PRWEB) December 31, 2020
Messaging Architects, an eMazzanti Technologies Company and information governance consultant, explains the benefits of automating data governance in a new article on the Messaging Architects website. The informative article first briefly reviews automated tools such as artificial intelligence (AI) and robotic process automation (RPA).
The author then explains how machine learning improves cyber security and automated error detection and correction improves data quality. He also discusses automated data lineage and how metadata management increases data quality and value.
"While essential, data governance can also prove complicated and time-consuming," stated Greg Smith, Vice President of Services Delivery at Messaging Architects. "Automating data governance saves time and money, simplifies regulatory compliance, and improves decision making."
Below are a few excerpts from the article, "Automating Data Governance to Stay Ahead of Exploding Data Volume."
Augment Cyber Security with Machine Learning
"AI has become essential to modern cyber security. Through machine learning, advanced security systems can identify patterns that indicate cyber threats. In many cases, the system can then mitigate a cyber-attack before humans even know it has occurred."
Reduce Errors
"Data riddled with errors has no value. Consequently, analysts spend hundreds of hours cleaning up data to render it useful. But when machines perform error detection and correction, this process takes a fraction of the time. Automation also frees up analysts to focus instead on gaining valuable insights from the data."
Improve Compliance with Automated Data Lineage
"Manually documenting data lineage requires substantial resources and can result in costly errors. However, automating end-to-end data lineage with a combination of AI, machine learning and metadata both improves accuracy and saves time."
Rapidly Realize Data Value
"Effective metadata management significantly increases data value, and automation of metadata tagging speeds the process. Consequently, decision makers can quickly find the data they need, regardless of its location. They can then proceed with confidence in the quality of the data."
Automating Data Governance with Expert Assistance
The data technology marketplace offers a variety of options for automating data governance. Choosing and properly implementing the right tools for business requires careful planning. Business leaders begin by identifying data challenges and outlining the goals they want to achieve through automation.
The information governance experts at Messaging Architects help decision makers put the components in place, beginning with data management and eDiscovery. They also help customize comprehensive data security and compliance monitoring designed to complement business needs.
Have you read?
5 Data Governance Best Practices for 2021
Metadata Management Unleashes the Potential of Enterprise Data
About Messaging Architects
Messaging Architects specializes in effectively managing and securing an organization's most precious asset, its information. With over 20 years of information management and technology consulting experience, the Messaging Architects team has provided corporations, educational intuitions, health care facilities and nonprofits with methodologies, procedures and technology to keep their data organized, compliant and secure.
About eMazzanti Technologies
eMazzanti's team of trained, certified IT experts rapidly deliver increased revenue growth, data security and productivity for clients ranging from law firms to high-end global retailers, expertly providing advanced retail and payment technology, digital marketing services, cloud and mobile solutions, multi-site implementations, 24×7 outsourced network management, remote monitoring and support.
eMazzanti has made the Inc. 5000 list 9X, is a 4X Microsoft Partner of the Year, the #1 ranked NYC area MSP, NJ Business of the Year and 5X WatchGuard Partner of the Year! Contact: 1-866-362-9926, info@emazzanti.net or http://www.emazzanti.net Twitter: @emazzanti Facebook: Facebook.com/emazzantitechnologies.