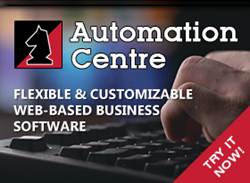 "There is just something special about a product that has been continuously improved, loved, tested, upgraded, and tuned for decades. Tracker Suite is a modern classic and Version 5.2 is far and away the best release ever." – Steven Birchfield, Founder, Automation Centre.
TUCSON, Ariz. (PRWEB) September 17, 2018
Experience complete business process solutions for your organization. Tracker Suite Version 5.2 provides web based applications for your Workforce Management needs. Tracker Suite provides out of the box web solutions for Customer Relationship Management, Project and Resource Management, Purchasing and Vendor Management, Time and Expenses Workflow, Help Desk, Invoicing, and HR.
Tracker Suite 5.2 Release Themes:
Browser Support:
Support for current versions of all mainstream browsers, including Chrome, IE, Edge, Safari, and Firefox.
User Interface Improvements:

Smart Menus: Most used menu choices, search functions, pin navigation, create favorites, folders, and collections.
Easily create new data forms, split grids, create graphs, and save new links to the Desktop for one click future access.
Easier Workflow with Master Inbox, Outbox, and Workflow improvements.
Filter on blank values and search exact or partial values in Views.
Better Portal functions, including secure Global Folders.
Smarter bots for reminders, automatic archiving, and system maintenance.
Reporting Improvements:

New multidimensional functions to cross tabulate data.
Easily and instantly sort columns on reports and save personalized settings.
Report actual head count, planned, and FTE usage.
Generate Customer and Vendor Mailing Lists.
New visualizations, including new multi-dimensional Tree Graph.
Drill down to source data improvements.
Performance improvements.
Workflow:

Improved Master Inbox and Outbox.
New Workflow Comments function.
More Workflow Utilities to re-route, re-send, override approval.
Reminders and escalations.
New Application Functionality:

A new Tracker Suite application, called Vendor Tracker, provides consolidated spend information and Vendor Relationship Management.
Better Resource Scheduling, Dependency Management, and Reporting.
New Mass Mail and Word Template capabilities, with templates for vendors and customers.
Ability to consolidate holidays, vacation, and company events into a single calendar.
Per diem expense reporting in Expense Tracker.
New Integration pump to synchronize HR systems with Personnel Tracker.
New Time-in/ Time-out Time Sheet.
Work Breakdown Structure and Gantt Improvements.
New Vendor Tracker Application:

Creation of new Vendor Portal. Now vendors can login to the application to see their purchase orders.
Vendor Folders have been added to the application, allowing a very useful and centralized working area for Vendor management.
Interested parties may register for immediate access to a free evaluation site at: http://www.trackersuite.net/RFI2/InfoRequest.aspx.
About Automation Centre and Tracker Suite:
Tracker Suite offers secure, easy to use, integrated workflow all integrated with central business intelligence reporting. Now is the time to automate and integrate your organization. Implement a single module or a complete solution all applications are available on the cloud or on premise.
Automation Centre (http://www.Acentre.com) has been successfully providing business solutions since 1994, and is a leading provider of advanced Project Management, Time Reporting, Purchasing, and Help Desk solutions for organizations of all sizes. TrackerSuite.Net is a trademark of Automation Centre. Tracker Suite and TrackerOffice are registered trademarks of Automation Centre.