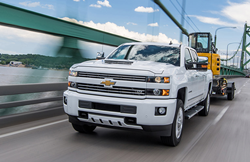 FARMINGTON, N.M. (PRWEB) October 15, 2019
AutoMax Truck and Car Center employees know that some drivers prefer diesel-powered vehicles to the more common gasoline-powered vehicles. Reasons for this may vary, but generally diesel is preferred for the acclaimed fuel economy benefits that go with it. Currently, AutoMax is promoting its selection of pre-owned diesel trucks to Farmington area drivers.
AutoMax Truck and Car Center has a comprehensive website, 4automax.com, where potential customers can view the dealership's inventory and find other useful tools to help in the car-buying process. Potential customers can find a "Diesel Truck" inventory link under the "Buy" drop-down menu at the top of the site. Other navigation options can lead to inventories for fuel efficient vehicles or all-wheel drive vehicles, depending on what the driver is looking for.
To choose a vehicle at AutoMax Truck and Car Center, drivers are encouraged to check out the online inventory and to use the search filters to narrow down their search. If a desired vehicle is not currently on the online inventory, drivers can select "Find My Car" at the top of the dealership's site to tell AutoMax employees what type of vehicle they are looking for. When the desired vehicle is obtained by the dealership, the driver will be contacted using the contact information given on the form.
Drivers who do find their desired vehicle on the online inventory are encouraged to get into contact with the dealership's sales team as soon as possible.