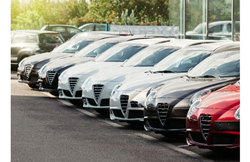 FARMINGTON, N.M. (PRWEB) April 09, 2020
Drivers in the Farmington area looking for pre-owned SUVs should get familiar with the inventory at Automax Truck and Car Center. The Automax dealership has a large stock of Dodge SUVs, specifically the Dodge Journey and Dodge Durango. The following vehicles are currently available for sale at Automax Truck and Car Center, which remains open for online sales during the current situation.
There are a total of 21 dodge journey models currently available. Each one of these is from the 2018 model year, but there is more diversity to be found in the trim levels among them. A total of 8 2018 Dodge Journey Crossroad models with front-wheel drive are for sale.
Shoppers will find white, black, red, and grey painted 2018 Dodge Journey Crossroad front-wheel drive models, with each being sold in the $17,000 to $18,000 range. There are also three all-wheel drive versions of the same model, year, and trim. These cost between $18,000 and $19,000. The variance in price is due to the accumulated mileage on each individual vehicle.
Besides the Crossroad trim, the GT trim of the 2018 Dodge Journey is also available, including both front-wheel and rear-wheel drive models. Three of four have all-wheel drive, while a lone front-wheel drive is for sale as the least expensive of the trim level. Each of the four comes close to but does not reach or exceed $20,000.
There are five Dodge Durango models in the inventory of the Automax Truck and Car Center dealership. One of them is a 2019 Dodge Durango R/T which, has just over 13,150 miles on it and costs almost $40,000. The other four belong to the GT trim level. Each of these has all-wheel drive and cost around $26,000 to $28,000. Two of the GT models with all-wheel drive are from the 2017 model year and the other two are from the 2018 model year.
Car shoppers interested in any of the Dodge SUVs available at Automax Truck and Car Center are encouraged to use their website to shop online where possible or contact the dealership by phone at 855-301-8633. The dealership is located at 5220 East Main Street, Farmington, New Mexico 87402.