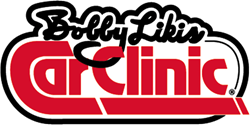 What a terrific event for classic car enthusiasts and collectors, families, and anyone who wants dive...make that, drive...into automotive fun. - Bobby Likis
(PRWEB) September 25, 2014
Automotive Expert and Car-Talk Host Bobby Likis took the Car Clinic show on the road to the Performance Racing Network (PRN) Studios at the Charlotte Motor Speedway. A guest of Nationwide Insurance and Hagerty Classic Car Insurance at the Charlotte AutoFair beginning last Thursday, Likis shared the microphone with racing and classic car enthusiasts on Saturday.
The classic car marketplace was alive and thriving at the AutoFair, and the entire venue popped with excitement for classic car enthusiasts and collectors. From the GTO camp...to the RK Motors exotic Mercedes display, along with hundreds of classic cars...to Tom Cotter and his "Fifty Shades of Rust" book signing, the 2014 Charlotte AutoFair was definitely supercharged and in overdrive.
Says Likis, "What a terrific event for classic car enthusiasts and collectors, families, and anyone who wants to dive...make that, drive...into automotive fun. And I learned a lot about the collaboration between Nationwide Insurance and Hagerty Classic Car Insurance, which partnership I wish had been around when I restored my 1980 Porsche Weissach. Nationwide/Hagerty now offer coverage to restoration buffs while the project is underway in their own home garages! This is definitely a shift up and to the right in classic car coverage."
Tim Schuldt, vice president of marketing for Charlotte Motor Speedway, comments, "Bringing the Bobby Likis Car Clinic radio show to the AutoFair at Charlotte Motor Speedway revs up the excitement at the event and brings national attention to all of the incredible displays, collector cars, auctions and other fun events during the AutoFair weekend." Schuldt adds, "Bobby has great passion for classic and performance cars, and his special live broadcast of Bobby Likis Car Clinic presented by Nationwide and Hagerty from the Auto Fair really brought that to life."
While the crowd of 100,000 AutoFair attendees and 7,000 vendors roared in venues around the track at the Charlotte Motor Speedway, Likis and his guests talked cars in the PRN Studio. For access to all the interviews, drive to http://www.CarClinicNetwork.com/AutoFair.
Guests include:

Ray Evernham, legendary crew chief and host of "AmeriCarna"
Dr. Andew Randolph, Technical Director, Earnhardt-Childress Racing
Lenny Batycki, Pit Reporter and host of "At the Track," Charlotte Motor Speedway
Jeff Spiegel, Director of Marketing, RK Motors
Tom Cotter, Author, Fifty Shades of Rust
Walt Hollifield, GTO expert
Scott Steward, 5th Generation Camaros
Mike Baucom, Nationwide Insurance
***
About Bobby Likis Car Clinic and the Car Clinic Network
Bobby Likis Car Clinic is the largest car-talk program/network on commercial radio, multiple web audiocasts, live video streaming webcast, podcasts (including iTunes), iPhone, chat room, YouTube, Facebook, Twitter, American Forces Radio Network & television. Car Clinic can be heard and seen in high-definition video on Saturdays, 10a-12n ET, live at WatchBobbyLive.com, on Facebook.com/BobbyLikis and on YouTube.com/BobbyLikis. Host Bobby Likis is the only car-talk host on commercial multi-media platforms named for five consecutive years to the "Talkers 250," the prestigious list of the top 250 talk-show hosts in America. Likis also owns and operates a 15000sf automotive service center, whose awards include "Best Automotive Service Shop," "Best Oil Change," and most recently, "Best Reputation in Automotive Service." Drive to http://www.CarClinicNetwork.com.
About Charlotte AutoFair 2014
The Charlotte AutoFair was the largest and greatest Collector Vehicle Event in the Southeast, and includes thousands of classic and exotic cars, 50 car clubs and nearly 100,000 auto enthusiasts. Displays included a special collection of exotic vehicles from around the world, including limited edition Lamborghinis, Ferraris, Porsches, the 50th Anniversary Pontiac GTO, and the Fifth Generation Camaro. Automotive parts and memorabilia were for or trade, a collector car auction was conducted by Dealer Auctions Inc., and more than 1,500 collectible vehicles of all makes and models were available for sale in the car corral that rings the 1.5-mile superspeedway. Charlotte AutoFair 2014 featured The Dock Dog competition, which showcased some of America's top dogs in events including Big Air, Extreme Vertical and Speed Retrieve.
About Charlotte Motor Speedway
For more than 50 years, Charlotte Motor Speedway has set the standard for motorsports entertainment for fans of all ages. Charlotte Motor Speedway is the only race vacation destination where fans can immerse themselves in the heart of NASCAR country. Visitors can attend one-of-a-kind race spectacles such as the NASCAR Sprint All-Star Race, the Coca-Cola 600 and the Bank of America 500; take behind-the-scenes speedway and race shop tours; explore the NASCAR Hall of Fame; and drive an 800-horsepower stock car. Charlotte Motor Speedway, zMAX Dragway and The Dirt Track at Charlotte host international NASCAR, NHRA and World of Outlaw events; gigantic AutoFairs, grassroots Legend Car and street legal drag racing, Monster Trucks and one of the world's largest drive-through holiday light shows, Speedway Christmas. There's entertainment for every thrill-seeker! Through every event and every decade, Charlotte Motor Speedway puts FANS FIRST with a never-ending commitment to enhance the fan experience. That tradition continues with unmatched value through affordable season tickets, unparalleled prerace entertainment and more opportunities for you to see your favorite drivers. Make memories with us at The Greatest Place to See the Race! http://www.CharlotteMotorSpeedway.com
About Nationwide
Nationwide, a Fortune 100 company based in Columbus, Ohio, is one of the largest and strongest diversified insurance and financial services organizations in the U.S. and is rated A+ by both A.M. Best and Standard & Poor's. The company provides a full range of insurance and financial services, including auto, commercial, homeowners and life insurance; public and private sector retirement plans, annuities and mutual funds; banking and mortgages; specialty health; pet, motorcycle, boat and farm insurance. For more information, visit http://www.Nationwide.com.
About Hagerty
Hagerty is a private, family-owned company that specializes in classic car insurance. Headquartered in Traverse City, MI, Hagerty operates in all 50 states, Canada, and also has offices in the U.K. that serve several European countries. In addition to providing classic car insurance, they publish a classic car price guide, Hagerty Classic Cars magazine, and support the future growth of the hobby through educational scholarships, youth advocacy efforts and the Historic Vehicle Association – which Hagerty founded to protect the cultural heritage of the automobile. Hagerty and Guaranteed Value are trademarks of The Hagerty Group, LLC. http://www.Hagerty.com