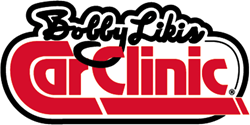 "Engine oil questions are in the top 5 of most frequently asked on Car Clinic, so Saturday will be a heyday." -Bobby Likis
(PRWEB) November 13, 2014
Bobby Likis, automotive expert and host of nationally syndicated car-talk program Bobby Likis Car Clinic, welcomes three of Royal Purple's finest join him for the live Car Clinic globalcast on Saturday, November 15, 10a-12n ET. Leah Herrington (Vice President of Marketing, Calumet Specialty Products), Wayland "Butch" Cox (Vice President of Professional-Consumer Sales, Royal Purple) and Chris Barker (Tribologist and Technical Services Manager, Royal Purple) will share the microphone with Likis and interactively answer questions from Car Clinic audiences.
Says Likis, "Engine oil questions are in the top 5 of most frequently asked on Car Clinic, so Saturday will be a heyday for all those wondering about the difference between regular oil and synthetic, what weight oil is optimum, and how high-mileage vehicles' needs are different from those with just a few thousand miles, to name a few."
Conscientious automotive consumers, hands-on enthusiasts, motorsports aficionados, motorcyclists and all who are curious about oil-related or other lubrication applications are invited to tune in to the live globalcast from the Car Clinic studio at http://www.WatchBobbyLive.com or http://www.Facebook.com/BobbyLikis. The toll-free hot-line, 888-Car-Clinic (888-227-2546), opens at 10a ET and closes at 12n ET.
Likis is also taking questions in advance on Twitter (Twitter.com/BobbyLikis) and via Facebook message (Facebook.com/BobbyLikis).
About Bobby Likis Car Clinic and the Car Clinic Network:
Bobby Likis Car Clinic is the largest car-talk program/network on commercial radio, multiple web audiocasts, live video streaming webcast, podcasts (including iTunes), iPhone, chat room, YouTube, Facebook, Twitter, American Forces Radio Network & television. Car Clinic can be heard and seen in high-definition video on Saturdays, 10a-12n ET, live at WatchBobbyLive.com, on Facebook.com/BobbyLikis and on YouTube.com/BobbyLikis. Host Bobby Likis is the only car-talk host on commercial multi-media platforms named for five consecutive years to the "Talkers 250," the prestigious list of the top 250 talk-show hosts in America. Likis also owns and operates a 15000sf automotive service center, whose awards include "Best Automotive Service Shop," "Best Oil Change," and most recently, "Best Reputation in Automotive Service."
About Royal Purple:
Royal Purple is the world's leading lubricant company: The Performance Oil That Outperforms®. Its product portfolio includes a complete line of premium synthetic lubricants and performance chemicals for automotive, commercial trucking and industrial applications. With its proprietary Synerlec® technology serving as the cornerstone for most of the company's products, Royal Purple lubricants excel in head-to-head performance tests by outperforming the competition. For additional information about Royal Purple, visit http://www.RoyalPurple.com or call toll-free 888-382-6300. Like us on Facebook (Facebook.com/RoyalPurpleFans) and follow us on Twitter (Twitter.com/Royal_Purple).