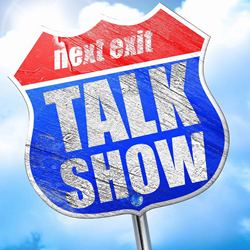 ...talk show platform revives the power of local media and extends the value of trust.
ATLANTA (PRWEB) August 26, 2019
Automotive Talk show platform found on 360AutoMarket.com lists capabilities of live video interaction. Website further states that anyone will be able to create a talkshow or join one from anywhere with new app in the AppStore, GooglePlay.
Mr. White was asked why he created a talk show platform. He replied, "The first reason is for the people who like to talk; social media proves this daily. They talk to each other about cars, RVs, auto shows, and even where to find a good accident attorney. They need someone they can trust and trust is the final ingredient before anyone does business; not price." He continues, "Face to face communication is proven to be the best way to communicate trust. And, In a B2B and B2C sense, distributors talk to their dealers and dealers to their customers."
Eric was asked to explain his second reason for creating a talk show platform for the automotive industry. He affirmed, "Many businesses are caught in the cycle of ever-increasing advertising costs and constantly left behind the technology curve. My platform blends new audience-building information and entertainment with extremely simplified technology, turnkey."
Creative Director was probed to explain his emphasis on trust and how his platform is used to extend his precepts. He says, "A talk show offers the perfect opportunity to be known, liked, and trusted and location is also interwoven with trust. Sure, the Internet can bring people together; it can also remove personal interaction. Customers need to know that you are nearby and that you will be there after the sale." He concluded that his talk show platform revives the power of local media and extends the value of trust.
Eric White states that his best example of being informative and entertaining is his upcoming talk show called 'Driving with Idiots'. It was discovered that Season 1: Episode 1 starts on September 24, 2019 at 6pm, EST.
Eric was asked why he chose comedians to interview other comedians in upcoming talk show. He responded, "Comedians interviewing comedians? What could go wrong?" He proceeds, "As comic hosts and co-hosts interview job-seeking comedians, the right winner of that job must be a segue genius. In other words, that person has to entertain and inform Atlantans' about driving habits as they fluidly move between doing a live interview with someone discussing a recent drunk driving victim, pet peeves of driving, or where a talk show guest is driving to eat next."
Eric White was asked about platform's usage scenarios. He replied, "Here's an idea! An RV and camping retailer can do a cross country reality TV show spotlighting vehicle's features and benefits. A local car wash chain could host live networking events as they give audience to local business owners who visit them." Mr. White is quoted saying, "Even live auctions can extend their market reach and relevance as they display pre-sales inventory without hinderance of phone numbers, or login and access codes. There are so many possibilities."
Eric dedicates his 'PROOF OF CONCEPT - What's your idea?', Episode 2 to an in-depth look at probable usage scenarios. Broadcast is found to be on September 2, 2019 at 3pm.
Eric White was asked about how automotive business can make money with his platform. He responded, "The first is putting on display your product or service and selling them. The second is advertising revenue. Here is an example. A local chiropractor sells his service of helping with injuries and disorders of the musculoskeletal system. That same chiropractor can, also, receive ad revenue from a local accident attorney, used car dealer, new car dealer, tow truck driver, rental car agency, and nearby body shop. But, making money with my talkshow platform is a byproduct of delivering quality information and entertainment through it." Take NADA.org. They seem to impression a holistic approach to success rather than focus on just margins." Creative Director gives example of previous quote stating that he likes the way nada.org displays 'Women Driving Automotive Retail'.
Eric White was questioned about stand-out features about his talk show platform. He returned with, "Ok. Here are just a few. You get up to 49 camera angles at any event, zero login access option, unlimited viewers, auto archiving by category AND location, and your live event can be simulcast into your own website."
Eric' final mention announces that the first of four episodes displaying his proof of concept. Website dates Episode 1 to begin on Monday, August 26, 2019 at 3pm.
Sandra Powell
Automotive Correspondent