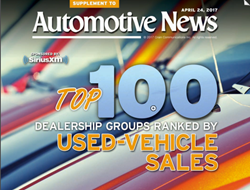 We owe a large part of our pre-owned success to the evolution of our sales process in pre-owned. Whether we are talking market-based pricing or our ability to reach consumers online, we have grown individually as operators & moved the needle greatly
Tampa Bay, FL (PRWEB) April 28, 2017
Automotive News released its yearly "Top 100 Dealership Groups Ranked by Used-Vehicle Sales" supplement earlier this week, listing Morgan Automotive Group at number 28. The supplement used 2016 used vehicle sales, specifically revenue and unit sales to determine dealer rank. According to the listed rankings, the automotive group is also positioned at number 4 in the state of Florida for used vehicle sales.
The supplement also provided commentary on the top-performing group, which was limited to franchised new-vehicle dealerships selling used vehicles.
"A robust used car operation is a real core competency of many successful dealer groups. We owe a large part of our pre-owned success to the evolution of our sales process in pre-owned. Whether we are talking market-based pricing or our ability to reach consumers online, we have grown individually as operators and moved the needle greatly as a whole," said Brett Morgan, President of the Morgan Auto Group.
Morgan Automotive Group moved up 25 spots from last year where it was previously ranked at number 53. This position was based on 2015 used vehicle sales evaluated using the same metrics from this year's ranking.
"We also have improved our ability to deliver low cost and safe pre-owned vehicles to customers which has made an impact. Remember, a successful used car operation isn't just good for used car customers but it is a real plus when that new car customer comes to trade (with us) as well. They are looking for a dealer who understands the true value of their trade-in and has the distribution needs internally to fully realize that cars value," said Morgan.
About Morgan Automotive Group
Morgan Auto Group is one of the largest, privately held automotive dealer groups in the nation, recently ranked in the top 50 by Automotive News.
Through its 23 dealerships, the Tampa-based business offers 15 unique brands, from Honda to Lamborghini, with new, certified pre-owned, and quality used vehicles available for lease or purchase. These retail locations also sell car parts, service contracts, along with maintenance and repair services.
The company's famous slogan, "When You Make It Morgan, We Make It Happen" is the basis for all customer service, branding, promotions, and other key operations at its 23 locations from Columbia.