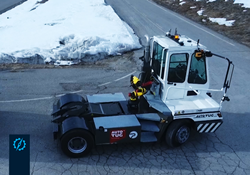 "The combination of these four leading companies brings an autonomy solution that has never been more needed in the logistics sector to lower costs and increase safety and efficiency." - Mel Torrie
MENDON, Utah (PRWEB) March 19, 2020
A new fully unmanned yard truck solution combines the expertise of four companies: Autonomous Solutions, Inc. (ASI), a world leader in vehicle automation; Phantom Auto, the leading provider of remote communication software for unmanned vehicles; FANUC America Corporation, the world leader in robotics, CNC systems, and factory automation; and Terberg, a world renowned truck manufacturer.
"The combination of these four leading companies brings an autonomy solution that has never been more needed in the logistics sector to lower costs and increase safety and efficiency." said Mel Torrie, founder and CEO of ASI.
ASI's Mobius® software gives operators real-time awareness and control of a fleet of unmanned trucks, each of which is driven by ASI's proven autonomous vehicle technology. Phantom Auto's remote communication layer provides a reliable link between the Mobius software and the trucks over any network, enabling monitoring, tele-assistance, and tele-driving. The Mobius application gets orders from an operator or management system, plans a path for a truck to pick up and drop off a trailer, and sends the plan to the truck. The Terberg yard truck, with automation-ready drive-by-wire electronic controls, is driven by ASI software to the trailer or dock. There, a FANUC robotic arm uses proprietary technology to connect or disconnect the pneumatic brake line to the trailer, making this a truly end-to-end solution. By making high-quality, real-time control possible across broad geographic coverage areas, ASI's unmanned yard truck solution increases its customers' vehicle operational efficiency and operational design domains.
The unmanned yard truck solution is:
(1) vehicle-agnostic, so customers can work with their existing fleet and preferred yard truck brand;
(2) hardware-agnostic and easy to integrate, so that customers can use the solution without overhauling their vehicle hardware architecture; and
(3) requires no modifications to trailers in order to obtain air line connections.
"With both Phantom and ASI's technology combined into one product, we believe we have the most scalable end-to-end solution in the market, enabling our yard truck customers to get out of a sandbox environment and into actual deployments," said Mel Torrie.
"Phantom is excited to partner with one of the top autonomy providers to continue deploying unmanned vehicles across the logistics market," said Shai Magzimof, founder and CEO of Phantom Auto. Added Elliot Katz, co-founder of Phantom Auto: "With our yard truck solution, we are proving once again that autonomy combined with remote operation can get unmanned vehicles deployed today."
About ASI
Autonomous Solutions, Inc. is a world leader in vendor independent vehicle automation systems. From our headquarters and 100-acre proving ground in northern Utah, we serve clients in the mining, agriculture, automotive, construction, material handling, government, and manufacturing industries with remote control, teleoperation and fully automated solutions. ASI's vehicle automation products can be found in companies and government agencies throughout the world. Read more about us at https://www.asirobots.com/facility_robotics/
About Phantom Auto
Founded in 2017 in Silicon Valley by a team of real-time networking and robotics experts, Phantom Auto specializes in the operation of unmanned vehicles with customers throughout the world. Phantom Auto's software enables a human to remotely tele-monitor, tele-assist, and/or tele-drive fleets of unmanned vehicles from up to thousands of miles away. For more information on Phantom Auto, please visit: https://phantom.auto/
About Terberg Corporation
Founded in 1869, Terberg has a worldwide presence operating in over 120 countries worldwide and are supported by a network of international distributors and Terberg branches. Terberg focusses on innovation and is the trendsetter in the yard shifting market. By continuously responding to the requirements of our customers throughout the world we can deliver vehicles of the highest quality, offering the best possible performance. For more information about Terberg, please visit: https://www.terbergbenschop.nl/en/
About FANUC America Corporation
FANUC America Corporation is a subsidiary of FANUC CORPORATION in Japan, and provides industry-leading robotics, CNC systems, and factory automation. FANUC's innovative technologies and proven expertise help manufacturers in the Americas maximize productivity, reliability and profitability.
FANUC embraces a culture of "Service First" which means that customer service is our highest priority. We are committed to supplying our customers with parts and support for the life of their FANUC products.
FANUC America is headquartered at 3900 W. Hamlin Road, Rochester Hills, MI 48309, and has facilities in: Auburn Hills, MI; Atlanta; Boston; Charlotte; Chicago; Cincinnati; Cleveland; Houston; Huntington Beach, CA; Los Angeles; Minneapolis; Montreal; Pine Brook, NJ; Pontiac, MI; Birmingham, AL; San Francisco; Seattle; Toronto; Buenos Aires, Argentina; Sao Paulo, and Manaus, Brazil; and Aguascalientes, Monterrey, and Queretaro, Mexico. For more information, please call: 888-FANUC-US (888-326-8287) or visit our website: http://www.fanucamerica.com . Also, connect with us