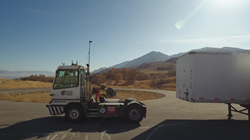 ASI provides safer, more efficient, and cost-effective solutions to improve many aspects of yard shifting.
MENDON, Utah (PRWEB) February 09, 2021
Autonomous yard shifting uses trucks from different OEMs to perform daily tasks and routines without the need for a driver in the cab. As a result, it offers the ability to oversee and control operations of multiple trucks from a control room onsite, or thousands of miles away. The industry's most capable and proven command and control software, Mobius, integrated with Yard Management Software (YMS), and Vehicle Automation Kits (VAK) make autonomous yard shifting a reality. When combined, these solutions enable yard shifting to run at its highest potential, around the clock, without breaks, little maintenance, and scheduled repairs.
Yard shifting can be dull, dirty, and dangerous at times, but often is the most integral part of the supply chain. Bottlenecks and hazards at yard shifting facilities mean lost revenue, time, and resources. Consequently, a company is only as efficient as its weakest link in the supply chain, and often that weak link is in the yard shifting environment. Safety, driver shortages, inefficient use of time, improper scheduling, and the logistics of overseeing a yard are some of the major problems in the yard shifting industry.
The solution to these problems lies in autonomy. Automation in yard shifting offers a consistent, safe, highly efficient, and trackable solution to manage your facility's operations while reducing the number of obstacles to achieve peak efficiency.
Who is ASI and what they are doing?
For over 20 years Autonomous Solutions Inc. (ASI) has been the industry leader in vehicle automation. ASI strives to help organizations reach their potential through innovative robotic solutions. Above all, ASI provides safer, more efficient, and cost-effective solutions to improve many aspects of yard shifting.
ASI employs the most experienced team of engineers when it comes to vehicle automation. With our 20+ years of experience, onsite testing tracks, and over 1,000 deployed automated vehicles throughout the world, ASI is the clear choice for yard shifting automation. With partnerships including Terberg, AutoCar, FANUC, and Phantom Auto, ASI offers a proven solution with any type of yard truck. As a result, diesel, electric, and drive-by-wire yard trucks can be made autonomous through leveraging ASI's technologies and experience.
ASI has automated vehicles with Ford Motor Company, Luke Air Force Base and Rio Tinto, and has extended that knowledge and technical expertise into yard shifting automation. A key ingredient to ASI's automation success is our advanced automation software Mobius. Mobius has been in development for over 20 years and has been an integral part of every vehicle we have automated. ASI has invested millions of dollars, data, and hours into Mobius and refining vehicle automation to create the best yard shifting solution on the market today. The future of yard shifting is here, and ASI is excited to share it with the world.