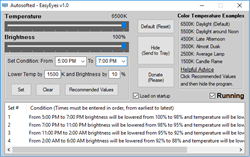 LOS ANGELES (PRWEB) August 09, 2019
Autosofted, the leading provider of automation software & file organization tools, has recently launched the EasyEyes v1.0 brightness adjusting software which helps in reducing eye strain.
Computers have become a staple tool in modern society, with users staring at the screens for several hours per day. This long gaze at the screen causes eyestrain, fatigue, and other vision problems. EasyEyes solves this particular issue by gradually adjusting the user's screen from its default brightness to a much cooler and dimmer light as the evening progresses.
Sharing more details about the unique software, a spokesperson from Autosofted stated, "The bodies of human beings have been crafted to remain awake when exposed to the sun. This is why the default brightness or color tone of a computer screen is equivalent to that of the sun. However, at night time, it is not a good idea to be staring at the 'sun.'" The EasyEyes software eliminates this problem by reducing the intensity of the screen's color and brightness. This effectively tricks the body into believing that the sun has set, which means it's time to catch some z's.
Studies have found that excessive exposure to the blue light emitted through computer screens and other devices causes not only fatigue, but also damage to the eyes due to the screen having a lower contrast than what eyes are used to seeing. Too much exposure to blue light rays also results in dry eyes, irritated eyes, retinal damage, difficulty in focusing, macular degeneration, and other vision related problems.
The Autosofted website states that EasyEyes works very discreetly, so as to not distract or impact the user. This highly innovative software is packed with various features such as brightness adjustment, color/temperature adjustment, stealth mode, and customizable brightness/temperature transitions. The software also supports multiple monitors.
While speaking more about the advantages of the software, the spokesperson further stated, "The amount of blue light that a person receives from a computer monitor is smaller in comparison to what one gets from the sun. However, we spend a lot more time indoors than outdoors and while we are indoors, we tend to always be glued to a computer screen or another gadget's screen. With this free software, one can manually set their computer screen's brightness and temperature conditions to keep their eyes well-protected."
For more information about EasyEyes, visit https://www.autosofted.com/easyeyes/!