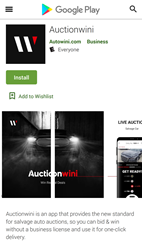 We created our app made bidding as accessible as possible and transparent to everyone.
SEOUL, Republic of Korea (PRWEB) April 11, 2019
The Seoul based startup Autowini, which offers the largest auto trading platform for Korean used cars, has launched a mobile live auction app named 'Auctionwini'
The Auctionwini organize live auctions, which gives overseas auctioneers the chance to bid salvage cars from luxury brand cars to Korean cars. And now, customers will be able to join and bid simply using the newly launched app.
The biggest advantage of the app is the absence of additional charges and complex authentication processes. Auctioneers can simply upload their ID and pay for deposit to attend the bidding and pay exact same fee shown on their bidding status. Also, the app provides on demand shipping service for global auctioneers that they can choose preference of shipping methods and cutting types.
Downloading the app, customers will receive notifications when live auction is on to ensure they are always up to date with bidding, which can also observe the bidding and final price of each items.
Search and Pre-bid functions are also available within the app to help find the lots that customers are interested in and bid in advance in case they are not available to attend live auction.
Ji Young Han, CEO of Autowini, said: "We are noticing more and more auctioneers are expecting our mobile auctions as we created our app made bidding as accessible as possible and transparent to everyone. During the early bird register, more than 500 people signed up for app launch within a month and shows strong interest on our new service. So, we have officially launched the app in April and are already seeing people actively downloading it."
The Auctionwini app is now available on Google Play and App Store