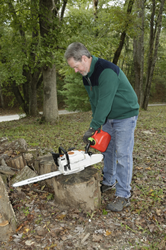 Rugged and ready-for-service, SmartControl containers allow you to refuel any piece of equipment without spilling a drop of fuel.
MIAMI, Okla. (PRWEB) September 28, 2020
Falling leaves and dying shrubbery signal the change of seasons. For homeowners that means it's time to get your property ready for the winter months ahead. Before the weather turns really cold, prime your tools and small equipment for handling fall clean up tasks around the home.
Having plenty of fuel on hand is a key element to powering through yard work and chores. No one wants to get half way through a project to discover they're out of fuel. Even worse is the idea of spilling valuable fuel when refilling chain saws, leaf blowers and other small equipment. Scepter can help.
Controlled Fuel Flow
"With some containers it can be messy and bulky to refill fuel tanks," says Daniel Marshall, vice president of marketing and business development with Scepter™. "Fortunately we designed the Scepter™ SmartControl™ containers with an innovative, hassle-free spout.
"Whether you're using a one-, two- or five-gallon SmartControl container, you can easily control the flow of fuel. And, you won't spill a drop."
The unique spout design of SmartControl makes it easier than ever to fuel equipment. The spout provides a clean, fast, and no-spill pour. This helps save gas for where it's needed by eliminating messy spills.
Staying Clean, Staying Safe
The user-controlled flow valve makes it effortless and safe to direct the amount of fuel being dispensed. And, because the container stores with the spout on, hands always stay clean.
With a single motion, the user simply presses the lever up to unlock the child safety feature with the palm of the hand, and then squeezes the large button. This first squeeze is done when upright to vent the container. Then, place the nozzle over the tank and squeeze again to pour just the right amount of fuel.
"The squeeze controlled flow rate on SmartControl fuel containers makes it easy to fill everything from small leaf blowers to large recreational vehicles," says Marshall. "Rugged and ready-for-service, these containers allow you to refuel any piece of equipment without spilling a drop of fuel."
Ready for Large Jobs
For large fuel replenishing needs, Marshall recommends the award-winning 5-gallon Scepter SmartControl gasoline container with rear handle for full control. The easy-to-manage new product recently received a 2020 Golden Hammer Award for product innovation, functional practicality and value.
Recipient of the "Best in Class" Award at the 2018 National Hardware Show, SmartControl containers are constructed in the U.S.A. of durable and safe high-density polyethylene. SmartControl containers can be found throughout the U.S. in The Home Depot®, Walmart®, Lowe's®, AutoZone®, Pep Boys, Target and Northern® Tool + Equipment stores.
With operations throughout North America, Scepter has manufactured containers for the consumer, marine and military markets for more than 70 years. Scepter reminds product users that it is never safe to use gasoline to start or accelerate a fire. Visit http://www.scepter.com for more information and safety videos.