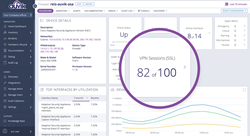 "During COVID-19, there's been a massive surge in the number of remote workers around the world... With Auvik's new VPN monitoring capability, IT teams can help minimize business disruption by ensuring remote workers stay connected to the business-critical information they need."
WATERLOO, Ontario (PRWEB) April 20, 2020
IT teams now have an easier way to monitor, manage, and troubleshoot VPN capacity issues with the launch of VPN monitoring in Auvik's network monitoring and management software.
VPNs (virtual private networks) create an encrypted tunnel between a user's computer and a remote network's firewall. As work-from-home becomes the new norm for many companies during the COVID-19 pandemic, IT teams are relying heavily on VPNs to securely connect remote workers back to the corporate network.
Most companies didn't plan for their entire workforce needing VPN access all at once, however. The increased demand has created potential network bottlenecks that IT teams need to proactively monitor and manage in order to keep employees connected and productive.
With the information now available in Auvik, IT teams can do just that. Without any manual setup, IT teams can monitor SSL VPN sessions across multiple vendors and multiple sites. This eliminates hours spent manually collecting the data one device at a time. Instead, Auvik alerts network managers when sessions reach defined thresholds so they can proactively address capacity issues before users are affected.
"During COVID-19, there's been a massive surge in the number of remote workers around the world and the number of IT teams looking for ways to better support them," said Alex Hoff, Chief Product Officer at Auvik. "With this new VPN monitoring capability, IT teams can help minimize business disruption by ensuring remote workers stay connected to the business-critical information they need."
Current Auvik customers can visit the Auvik Knowledge Base for details on getting started with VPN monitoring. IT teams who aren't yet using Auvik can try Auvik free for 14 days.
About Auvik Networks
Auvik's cloud-based network management software keeps IT networks around the world running optimally. By automating and simplifying network management, Auvik helps rocket an IT team's efficiency and capacity, while protecting the business from network risk. Visit http://www.auvik.com or follow @AuvikNetworks on Twitter. Auvik is a registered trademark of Auvik Networks Inc.