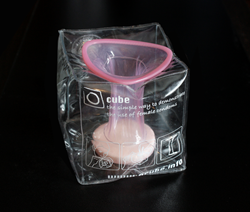 Wear What You Like! The new VA female condom on eBay.
HARBOR SPRINGS, Mich. (PRWEB) June 26, 2019
Direct-to-consumer online sales, shipping anywhere worldwide, begin June 26th for the new VA® worn-of-women brand female condom.
The VA is now available globally for consumer-direct orders shipped from eBay or worldcondoms.com.
The VA breaks ground for female condom marketing with photographs displaying the new pink VA in demonstration models at vawow.com. The VA's slogan: 'Wear What You Like!', emphasizes the almost-fashionable appearance of the VA, to be worn for looks and comfort as much as its clinical-study proven efficacy.
"The VA is the first female condom that is very feminine in design and elegant in appearance. It has a body-hugging fit and feels "unnoticed" during intercourse," says Brian Osterberg of design and distribution firm IXu LLC, "And the product photos tell the real story about the VA."
The VA condom is marketed for vaginal use only and can also be called an internal condom. Wholesale ordering and additional VA information is at vawow.com.
"VA product samples have been sent for review to Cosmopolitan Magazine, Women's Sexual Health Editor, in London and we hope to hear back soon," says Osterberg. The VA line is adding the highly anticipated model with vibe accessories within the next sixty days.
"Female condoms need to become more popular in Germany. We welcome the new VA to play a major role for women's sexual health," says Harriet Langanke from Germany's Charitable Foundation Sexuality and Health in Cologne. The VA received the highest-rating in a FC comparison study published in Lancet Medical Journal.
The VA is made for IXu in India by HLL Lifecare Ltd., the largest combined manufacturer of male and female condoms in the world. Wholesale and non-profit sales are at: vawow.com
"We believe the VA completely flips the idea of female condoms - - from being an unsightly medical device to a wearable accessory that's proven very likeable," says Osterberg, "We have very good reason to believe the VA will change both the public's opinion and choice to use a female condom from worst - - to first. It's that nice, and all we can ask is that people try it."
IXu LLC is a Michigan-based design firm with 25 years experience in barrier contraceptives: ixullc.com; vawow.com
Visit instagram at: vacondom; and twitter: @brianjayVA