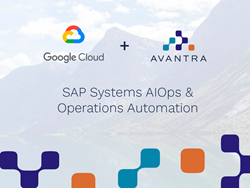 CHICAGO (PRWEB) July 07, 2020
Avantra, a leading AIOps and automation platform for SAP, today announced a strategic partnership with Google Cloud to enable enterprises to accelerate the migration of their SAP workloads to the cloud.
Avantra, which provides automated build and run capabilities to support enterprises and managed service providers (MSPs) on their digital transformation journey, joins a select number of independent software vendor partners in Google Cloud's SAP Technology Partner Portfolio to help support mission-critical SAP workloads.
The partnership will empower enterprises to automate their IT operations, resulting in improved business experience. Enterprise and MSPs will also benefit from:

Reduced cost to serve – Avantra's full-stack automation frees up IT resources and empowers operations teams to focus on innovation
Improved business experience – actionable insights enable better visibility and faster decisions whether in the cloud, hybrid or multi-cloud or on-premises, ensuring critical systems and processes are stable and performant
Governance and compliance – gain complete transparency and visibility across SAP landscapes, enforcing and tracking compliance, security, and support audit requirements
"We're delighted to partner with Avantra to help enterprises in their SAP migrations to Google Cloud," said Rob Enslin, President, Cloud Sales at Google Cloud. "Businesses can now leverage Avantra's automation and AIOps capabilities to increase efficiencies while decreasing risk of costly downtime in their SAP migrations and operations."
With immediate efficiency and automation benefits, enterprises deploying Avantra return their investment and start saving costs on SAP operations in less than three months.
"SAP applications are moving ever more rapidly to the cloud," said John Appleby, Chief Executive Officer, Avantra. "By combining Avantra's AIOps solution with Google Cloud's trusted and secure infrastructure, enterprises can improve business experience, reduce the risk of downtime, and accelerate their journey to the cloud."
Avantra is now available on Google Cloud marketplace. The new integrated solution is now offered for free with a 30-day trial.
Supporting Resources

Keep up with Avantra news by visiting the company's website
About Avantra
Avantra is the industry-leading AIOps platform for SAP automation operations: helping companies transform into a self-healing enterprise. Avantra helps SAP customers to improve business experience, performance, and compliance, focus valuable resources on digital transformation, and reduce operational cost. Avantra delivers a unified operations platform, whether on-premises, in the cloud, SaaS or hybrid, for both Build and Run operations.
Founded in Switzerland in 2000 with a global presence, Enterprises as well as Managed Service Providers trust Avantra to provide them unmatched intelligence and insight into their landscape health. Learn more at avantra.com.
Media Contacts:
US – Tawanda Carlton, Media Frenzy Global, avantra@mediafrenzyglobal.com
UK – Aaron Frank, Berkeley Communications, avantra@berkeleypr.com
DACH – Laura Jane Hoffmann, ELLJOT Communications, info@elljot-communications.com