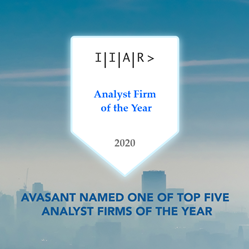 We have focused on driving value to our end-user clients by providing fact-based analysis and helping them make the right data-driven decisions. We value our engagement with the AR community, and we are pleased with this recognition of our work
LOS ANGELES (PRWEB) December 20, 2020
Global management consulting firm Avasant has been named as one of the top five analyst firms by an association of analyst relations professionals.
The Institute of Industry Analyst Relations (IIAR) has recognized Avasant, along with analyst firms IDC, Gartner, Forrester, and 451 Research as the Top Five Analyst firms in 2020.
The annual awards are based on an in-depth survey of analyst relations (AR) professionals. It is conducted by IIAR and looks at the AR pros' perception of how analysts are performing in their day-to-day interactions. This year, 187 AR professionals participated in the survey.
The awards are based on seven major criteria: quality of the analysts, coverage depth, quality of the content, ease by which information is accessible, the ease of interaction, a rating of value, and the overall experience.
"In fourth place we have a relatively new name in Avasant," said Andrew Hsu, a board member and chapter lead of IIAR and a veteran in the AR space. "Avasant is an advisory firm that has recently moved into starting an analyst practice. Respondents noted their strong influence in deals. Avasant is a firm to watch out for."
IIAR's awards include IIAR Analyst of Year, IIAR Global Analyst Firm of Year, IIAR Independent Analyst of the Year, and the best new entrants. Global and independent analyst firms of the year are in separate categories to allow for more equitable comparisons between the larger and smaller firms.
"It is an honor to be recognized for this award for the first time," said Avasant CEO and Chairman Kevin Parikh. "I'm grateful that Avasant has been recognized as an independent firm with trusted, world-class thought leaders that provide enterprises with unique insights."
"This recognition is a great testament to the depth and quality of our research," said Avasant Partner Akshay Khanna.
"We have focused on driving value to our end-user clients by providing fact-based analysis and helping them make the right data-driven decisions. We value our engagement with the AR community, and we are pleased with this recognition of our work."
About IIAR
The IIAR is a nonprofit organization established to raise awareness of analyst relations and the value of industry analysts, promote best practice amongst analyst relations professionals, enhance communication between analyst firms and vendors, and offer opportunities for AR practitioners to network with their industry peers.
About Avasant
Avasant is a leading management consulting firm focused on translating the power of technology into realizable business strategies for the world's largest corporations. Specializing in digital and IT transformation, sourcing advisory, global strategy, and governance services, Avasant prides itself on delivering high-value engagements through industry-focused innovation and flexible client-based solutions. Our seasoned professionals have an average of 20 years of industry-honed expertise, having conducted 1000+ engagements in over 50 countries. Avasant's next generation consulting and advisory methods have made it the top-ranked firm in its class, with recognition from numerous organizations, including: Vault, NOA, IAOP, and Wall Street Journal.
Avasant's engagement in the global market has inspired a strong commitment to community and purpose. Avasant Foundation supports technology and skill development programs to create employment opportunities for youth across Africa, Asia, the Caribbean and Latin America.
For more information, visit https://www.avasant.com.
Follow news, photos and video on Twitter at http://www.twitter.com/avasant
Facebook at https://www.facebook.com/avasantllc
LinkedIn at https://www.linkedin.com/company/avasant/