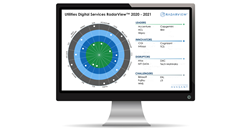 It is imperative for the Utilities sector to adopt digital solutions and technologies to not only meet the expectations of digital-savvy customer but also be future-ready.
LOS ANGELES (PRWEB) February 11, 2020
Avasant has unveiled its RadarView™ market assessment covering the Utilities Digital Services space. The RadarView™ report recognizes the top 18 providers for digital transformation in Utilities Industry. These 18 providers have shown mature capabilities and consistent growth in their Utilities digital service offerings and have been assessed across three key dimensions – practice maturity, investments & innovation, and ecosystem development.
The report categorizes the top Leaders, Innovators, Disruptors, and Challengers as follows:

Leaders: Accenture, Capgemini, HCL, IBM, Wipro
Innovators: CGI, Cognizant, Infosys, TCS
Disruptors: Atos, DXC, NTT Data, Tech Mahindra
Challengers: Birlasoft, EXL, Fujitsu, LTI, WNS
Download Avasant's complimentary 92-page report here.
Robert Joslin, a partner with Avasant, congratulated the winners noting, "The Utilities industry is in a constate of flux due to ever-increasing environmental and sustainability concerns, stringent regulations, and rapid evolution of technology. The impact of these external drivers is accentuated due to fundamental shifts in consumer expectations from traditional paper and phone call-based experience to app- and chat-based paperless one, throughout their engagements with Utilities. This makes it imperative for the Utilities to adopt digital solutions and technologies to not only meet the expectations of digital-savvy customer but also be future-ready."
The Utilities Digital Services RadarView 2020-2021 report addresses the need for Utilities to understand the right action points to navigate through the challenges, realize digital transformation, and gain competitive advantage. It also identifies the key global service providers and system integrators that can help Utilities in business transformation.
Some of the key findings from the report include:
Rising global demand for renewable energy and government aids is driving solar and wind grow at 33% and 15% respectively.
Corporates are actively adopting clean energy; PPAs are emerging as the vehicle of choice registering 120% YoY growth.
Electric Utilities are investing in start-ups, forming alliances & accelerator programs to enable digital transformation leading to a spend of over USD 2B in 2018.
Several Utilities have started leveraging next-generation technologies across the value chain to transform their operations.
100%+ growth of electric vehicles has created a new opportunity for Electric Utilities to build charging stations.
Gas Utilities are facing regulatory hurdles in the US but gaining traction in Asia-Pacific due to incentivization, in both industrial and residential segments.
Several Gas Utilities have initiated modernization of Aging infrastructure; others are deploying IoT and AI to enable proactive interventions.
With over USD 500M worth of acquisition-deals in 2018-19, consolidation of Water Utilities is gaining traction, as small players and municipalities struggle to maintain infrastructure.
EU has been proactive in assessing its member states' financing needs and investing in infrastructure modernization to the extent of € 45B per year.
Service providers have continued developing industry-specific solutions, fostering partnerships with specialized tech-vendors, and been able to help a number of Utilities in implementation of next-generation technologies such as Intelligent Automation, IoT, AI and Advanced Analytics, Blockchain, etc.
Forward-thinking utilities are designing solutions to address requirements for the shifting customer behavior from the traditional to the digital interaction in the customer care solutions and customer experience expectations.
Avasant's Research Director, Swapnil Bhatnagar, added "Utilities are steadily progressing towards a sustainable future. However, their efforts are fructifying later than expected due to the diversity and complexity of technology environments and lack of implementation experience. Service providers, owing to their deepening expertise and continued investments, have proven instrumental in accelerated and successful digital transformations of Utilities, corroborating the need of strategic partnerships with service providers, instead of piecemeal engagements, as Utilities strive for digital maturity and enhanced customer satisfaction."
About Avasant:
Avasant is a leading management consulting firm focused on translating the power of technology into realizable business strategies for the world's largest corporations. Specializing in digital and IT transformation, sourcing advisory, global strategy, and governance services, Avasant prides itself on delivering high-value engagements through industry-focused innovation and flexible client-based solutions.
Our seasoned professionals have an average of 20 years of industry-honed expertise, having conducted 1000+ engagements in over 50 countries. Avasant's next generation consulting and advisory methods have made it the top-ranked firm in its class, with recognition from numerous organizations, including: Vault, NOA, IAOP, and Wall Street Journal.
Avasant's engagement in the global market has inspired a strong commitment to community and purpose. Avasant Foundation supports technology and skill development programs to create employment opportunities for youth across Africa, Asia, the Caribbean and Latin America.
For more information, visit https://www.avasant.com.
Follow news, photos and video on Twitter at http://www.twitter.com/avasant, Facebook at https://www.facebook.com/avasantllc, and LinkedIn at https://www.linkedin.com/company/avasant/.