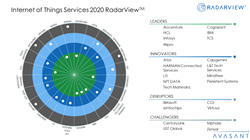 IoT has been considered a key enabler of Industry 4.0 that not only optimizes workflows and processes for enterprises but also reinvents their business models and develops new revenue streams.
LOS ANGELES (PRWEB) April 09, 2020
Avasant unveiled its Internet of Things Services RadarView™ 2020, a pioneering market assessment report that recognizes the top 24 providers for Internet of Things (IoT) Services. These providers have shown mature capabilities and consistent growth in their IoT service offerings and have been assessed across three key dimensions – practice maturity, investments & innovation, and industry development.
The report categorizes the top service providers as follows:
-Leaders: Accenture, Cognizant, HCL, IBM, Infosys, TCS, Wipro
-Innovators: Atos, Capgemini, HARMAN Connected Services, L&T Tech Services, LTI, Mindtree, NTT DATA, Persistent Systems, Tech Mahindra
-Disruptors: Birlasoft, CGI, eInfochips, Virtusa
-Challengers: CenturyLink, Mphasis, UST Global, Zensar
Download the 81-page report here.
Akshay Khanna, a partner with Avasant, congratulated the winners noting, "The past year has seen a proliferation of IoT projects that are generating new value for both enterprises and governments. This is expected to continue as technologies that rely on rapid data collection from IoT devices, such as real-time analytics and artificial intelligence, become more mainstream." He added further, "The next game–changers for IoT will be the large scale adoption of edge computing and the advent of 5G connectivity. These will lead to a plethora of new high speed-low latency IoT applications. "
IoT has been considered a key enabler of Industry 4.0 that not only optimizes workflows and processes for enterprises but also reinvents their business models and develops new revenue streams. The advent of 5G and edge computing and the IoT device-specific regulations emerged across the globe have disrupted the IoT market across three areas- connectivity, data, and security.
Some of the key findings from the report include:
-Manufacturing still leads in IoT adoption. Manufacturers have executed 32% of IoT projects in 2019 vis-a-vis 25% in 2018. However, the public sector has also doubled the IoT adoption over the last 12 months by leveraging IoT in undertaking smart city initiatives such as smart street lighting, smart waste management, smart traffic control, and smart air quality control.
-5G is all set to disrupt IoT connectivity because of higher speed, lower latency, greater bandwidth, lower power consumption, and greater privacy. 69% of enterprises already see the potential of 5G technology in their organizations, while 7% have already started building and demonstrating 5G solutions.
-Even with 5G, sending data with low network latency requires higher computing power in IoT devices. Thus, edge computing is critical to bolstering the transformative power of 5G. Telecom providers and cloud providers are actively collaborating for 5G edge innovation to speed up data communications and processing.
-44% of IoT projects integrate AI and analytics to overcome data challenges around volume, velocity, variety, and complexity. 75% of these projects have also enabled enterprises to transform their business models into as-a-service models.
-The interconnectedness among multiple IoT endpoints, the increase in the number of devices, and the amount of data require security regulations. Thus, governments and regulatory associations are stepping in to protect the industries from IoT-device-related vulnerabilities by regulating IoT devices.
Avasant's Senior Analyst, Amrita Keswani, added, "As IoT technology advances, it has become imperative for enterprises to evolve their business and operating models quickly. Progressive enterprises need to select service providers who understand the challenges on their IoT journey and enable their business and operating models not only to align with customer expectations but also to be future-ready."
About Avasant:
Avasant is a leading management consulting firm focused on translating the power of technology into realizable business strategies for the world's largest corporations. Specializing in digital and IT transformation, sourcing advisory, global strategy, and governance services, Avasant prides itself on delivering high-value engagements through industry-focused innovation and flexible client–based solutions.
Our seasoned professionals have an average of 20 years of industry-honed expertise, having conducted 1000+ engagements in over 50 countries. Avasant's next generation consulting and advisory methods have made it the top-ranked firm in its class, with recognition from numerous organizations, including: Vault, NOA, IAOP, and Wall Street Journal.
Avasant's engagement in the global market has inspired a strong commitment to community and purpose. Avasant Foundation supports technology and skill development programs to create employment opportunities for youth across Africa, Asia, the Caribbean and Latin America.
For more information, visit https://www.avasant.com.
Follow news, photos and video on Twitter at http://www.twitter.com/avasant, Facebook at https://www.facebook.com/avasantllc, and LinkedIn at https://www.linkedin.com/company/avasant/.