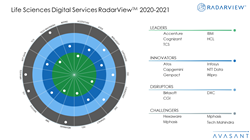 "Integration of emerging technologies, particularly AI, IoT and analytics across the value chain will expedite the discovery, development, and launch of cost-effective therapies."
LOS ANGELES (PRWEB) April 02, 2020
Avasant unveiled its Life Sciences Digital Services RadarViewTM 2020-2021, a pioneering market assessment report that recognizes the top 18 providers for digital transformation in life sciences Industry. These 18 providers have shown mature capabilities and consistent growth in their life sciences digital service offerings and have been assessed across three key dimensions – practice maturity, investments & innovation, and ecosystem development.
The report categorizes the top service providers as follows:
Leaders: Accenture, Cognizant, HCL, IBM, TCS
Innovators: Atos, Capgemini, Genpact, Infosys, NTT Data, Wipro
Disruptors: Birlasoft, CGI, DXC
Challengers: Hexaware, LTI, Mphasis, Tech Mahindra
Download the 89-page report here.
Nishant Verma, a partner with Avasant, and Healthcare and Life Sciences Industry Lead congratulated the winners noting, "The life sciences industry is under constant scrutiny from regulatory associations and government regarding the quality and prices of drugs and therapies, patient welfare, and security of patient data. These pressures, along with the rise of chronic diseases are pushing companies towards alternate product lines and personalization of therapies. The enterprises are thus evolving through inorganic routes like mergers, acquisitions, divestitures and organic initiatives like the investment in new opportunities to drive business growth and increase focus on priority areas. Integration of emerging technologies, particularly AI, IoT and analytics across the value chain will expedite the discovery, development, and launch of cost-effective therapies."
The Life Sciences Digital Services RadarView 2020-2021 Report addresses the need for enterprises to identify the right actions to navigate through challenges and gain competitive advantage. It also identifies the key global service providers and system integrators that can help enterprises achieve true business transformation.
Some of the key findings from the report include:

The life sciences industry is evolving to address the challenges from stringent regulations and the growing population of patients with chronic diseases.
With the average annual out of pocket cost of some cancer drugs approaching USD 12K, few governments are imposing caps on drug prices affordability.
Penalties of more than USD 20 million were levied by the Federal trade commission (FTC) for deceptive data practices in 2019.
Large enterprises allocated18-20% of revenues in 2019 as R&D budgets, primarily towards innovation-led drug discovery for the treatment of chronic diseases.
Discounts on reference products of around 20% for Biosimilars and around 80% for generics and reduced development cycle is helping them garner more share from branded drugs.
Adoption of IoMT is driven by the increasing focus on advanced monitoring applications and real-time tracking of patients for proactive healthcare measures.
Life sciences companies are investing heavily in precision medicine to provide new and improved treatment to chronic disease patients. It can reduce the total healthcare costs by approximately 35%.
Inorganic initiatives including M&As and divestiture can help enterprises to integrate complementary portfolios, reduce dependencies, explore new investment opportunities, and drive geographical expansion.
Life sciences start-ups are deploying innovation-led approaches to focus on optimization of drug development process and creating next-gen therapeutics.
Digital transformation will accelerate as life sciences companies explore new opportunities for next-gen therapeutics by leveraging emerging technologies like AI, blockchain, automation, analytics, and IoT.
More than 75% of new outsourcing contracts included integration of digital technologies across various processes and segments.
Avasant's Research Leader, Pooja Chopra, added "As life sciences companies try to innovate drugs and therapies, leverage of emerging technologies across the value chain will help them differentiate from other companies. To acquire the required technological advancements, they will have to either pursue the domain-specific start-ups or partner with progressive service providers."
About Avasant:
Avasant is a leading management consulting firm focused on translating the power of technology into realizable business strategies for the world's largest corporations. Specializing in digital and IT transformation, sourcing advisory, global strategy, and governance services, Avasant prides itself on delivering high-value engagements through industry-focused innovation and flexible client-based solutions.
Our seasoned professionals have an average of 20 years of industry-honed expertise, having conducted 1000+ engagements in over 50 countries. Avasant's next generation consulting and advisory methods have made it the top-ranked firm in its class, with recognition from numerous organizations, including: Vault, NOA, IAOP, and Wall Street Journal.
Avasant's engagement in the global market has inspired a strong commitment to community and purpose. Avasant Foundation supports technology and skill development programs to create employment opportunities for youth across Africa, Asia, the Caribbean and Latin America.
For more information, visit https://www.avasant.com.
Follow news, photos and video on Twitter at http://www.twitter.com/avasant, Facebook at https://www.facebook.com/avasantllc, and LinkedIn at https://www.linkedin.com/company/avasant/.