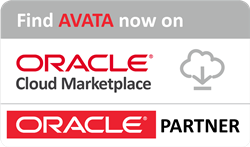 "Participation in the Oracle Cloud Marketplace further extends our commitment to the Oracle community and enables customers to easily integrate into Cloud applications." - Sanjay Agrawal, VP of Operations, AVATA
DENVER (PRWEB) September 27, 2019
To remain competitive in today's highly connected business environment, organizations are increasingly adopting innovative Cloud applications to support their everyday business operations.
The Oracle Cloud Marketplace is a one-stop shop for Oracle customers seeking trusted business applications and service providers offering unique business solutions, including ones that extend Oracle Cloud Applications. As an Oracle Partner, AVATA leverages Oracle Cloud Platform Services to quickly build applications that extend and integrate with Oracle Cloud SaaS applications, and give our customers the best and most complete Cloud experience.
"The Oracle Cloud Marketplace is specifically designed to help organizations quickly and easily find, evaluate, and purchase the applications they need to reach their business goals," said Sanjay Agrawal, VP of Operations, AVATA. "A great example of this is AVATA's eLync Enterprise Integration Platform which offers a solid platform to easily connect to the Cloud. Built on Oracle technology, eLync provides user-friendly, pre-configured Cloud adapters that integrate Oracle Cloud to legacy ERP applications including JDE, EBS, SAP and more. Participation in the Oracle Cloud Marketplace further extends our commitment to the Oracle community and enables customers to easily integrate into Cloud applications."
A complete list of AVATA Services can also be found on Oracle's Cloud Marketplace along with brochures, customer success stories and demonstration videos.
Oracle Cloud is the industry's broadest and most complete public Cloud, delivering enterprise-grade services at every level of the Cloud technology stack including software as a service (SaaS), platform as a service (PaaS), infrastructure as a service (IaaS), and data as a service (DaaS).
About AVATA
AVATA is a leading strategic partner of Oracle and is recognized for its global capabilities in helping companies solve critical business challenges through people, process and technology. We offer the unique blend of real-world industry experience, best practices, and software expertise that sets us apart from pure system integrators. Leveraging Oracle SCM, ERP, and EPM Cloud, we provide our clients with a strategy that fits their organization and competitive processes that differentiate them in their respective markets and successfully deliver rapid improvements impacting bottom-line performance.
Contact us at http://www.avata.com to learn more.