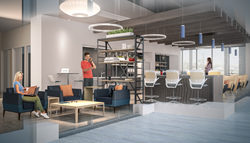 "Our upscale workspace has all the amenities that a full-service corporate office provides, with a level of hospitality, service and support that rivals business class hotels," says Brian M. Stolar, co-franchisee, Serendipity Labs Aventura.
Aventura, Florida (PRWEB) July 22, 2016
The Pinnacle Companies and affiliates of Centrum Partners announced the opening of Serendipity Labs Aventura in the Aventura Corporate Center at 20807 Biscayne Boulevard. Serendipity Labs Aventura provides members with nearly 12,000 square feet of vibrant, upscale office space with private offices, open coworking space, meeting rooms and ideation studios. Members have access to an upscale lounge, guest reception, concierge services, high-speed wireless internet, event space, a lab café, outdoor seating areas, a private courtyard patio and garage parking.
"This Class A office facility offers an unparalleled opportunity for individual and company users to work in an upscale environment with best-in-class finishes including polished concrete floors, floor-to-ceiling glass, Steelcase-equipped offices and coworking center -- along with state-of-the-art technology and the convenience of being located in dynamic Aventura," says Arthur Slaven, principal, Centrum Partners. Centrum is a development company with decades of experience in office, residential and retail projects, and the co-franchisee of Serendipity Labs Aventura.
"We're offering a full menu of options for today's changing workforce, whether you are an entrepreneur needing office space, a team seeking to collaborate in an ideation studio, or a mobile worker that wants to network with like-minded professionals," says Brian M. Stolar, CEO of The Pinnacle Companies, co-franchisee of the Aventura Serendipity Labs. Pinnacle is an award-winning leader in urban redevelopment with a specialty focus on mixed-use, next generation developments. "Our upscale workspace has all the amenities that a full-service corporate office provides, with a level of hospitality, service and support that rivals business class hotels," continues Stolar.
Serendipity Labs is a fast growing coworking network, with a nationwide rollout underway. The company offers a range of membership options including day passes, monthly coworking lounge access, full-time dedicated private offices, and team rooms for companies needing remote offices or project space.
"Serendipity Labs supports the way people want to work today. Thirty percent of the U.S. workforce now chooses where and when they work. Companies are supporting this mobility and choice with coworking memberships," says John Arenas, CEO of Serendipity Labs. "As an upscale, lifestyle brand, we empower members with access to an enterprise-class, thoughtfully designed work environment that is infused with hospitality and energy."
Serendipity Labs Aventura will manage a full schedule of seminars and networking events tailored for entrepreneurs, mobile workers and corporate executives. Corporate memberships provide access across all Serendipity Labs network locations for mobile and remote workers.
All Serendipity Labs locations are PCI (Payment Card Industry), Sarbanes-Oxley and HIPAA (Health Insurance Portability and Accountability) compliant, and meet the SAS Statement on Auditing Standards No. 70 for infrastructure security standards.
For more details, visit: http://serendipitylabs.com/locations/aventura-coworking/
About The Pinnacle Companies
A privately held regional real estate development firm, The Pinnacle Companies is based in Montclair, NJ, The firm's most recent project is the Montclair Center Gateway Redevelopment Plan (known as CentroVerde), which includes The MC hotel, a 151-room Marriott Autograph Collection property and the mixed-use Valley & Bloom project with 260 residential rental units, along with 50,000 square feet of office and retail space. Pinnacle also developed The Siena, a 200,000 square foot mixed-use building on the site of the former Hahne & Co. department store in Montclair. Other notable Pinnacle projects in New Jersey include Maxwell Place, a 1,500,000 square foot mixed-use project on the site of the former Maxwell House coffee factory in Hoboken, developed as a joint venture with Toll Brothers, and Crystal Pointe in Jersey City, a 41-story, 269-unit luxury condominium tower in a joint venture with Fisher Development. http://www.pinnaclecompanies.net @ThePinnacleCo
About Centrum Partners
Founded in 2009 by Arthur Slaven and John McLinden, Centrum Partners LLC is in the business of creating extraordinary residential, retail, office, industrial and hospitality developments in Chicagoland and beyond. The firm is renowned for consensus building amongst community partners and bringing a dynamic response to new market opportunities. Centrum's ability to maintain an honest relationship with the public, while creating positive change for the people who call these neighborhoods home, is unmatched in the industry. http://centrumpartners.net/
About Serendipity Labs, Inc.
Headquartered in Rye, NY, Serendipity Labs, Inc., was established in 2013 by industry leader John Arenas. (http://www.serendipitylabs.com). Serendipity Labs delivers an upscale experience for mobile professionals, independent workers and project teams. It offers day passes, part-time and full-time coworking memberships, dedicated private offices and team rooms in its exclusive network, with central billing and reporting are available. The Serendipity Labs mobile app for iPhone and Android means making reservations is quick and easy. Its cloud-based, proprietary OASIS® technology platform is enterprise-class and meets the highest security standards. Serendipity Labs is growing through owned, managed and franchised locations in office buildings, high-rise residential projects, hotels and retail properties throughout the U.S.