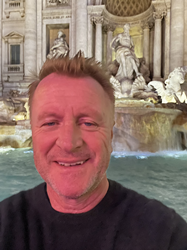 Today the US dollar goes a long way in Europe, making it the very best time in more than a decade to embark on an unparalleled group travel experience to one of the world's most iconic vacation destinations – Italy
MOONACHIE, N.J. (PRWEB) November 02, 2022
Group travel brand Aventura World, a company of Central Holidays, is reporting bookings to Italy are now up 52 percent from 2019, the year that marked the company's highest historic bookings. To cater to this soaring level of demand, Aventura World is enhancing its group travel experiences throughout the country.
"Recently returned from an extensive product development trip to Italy, President of Aventura World Ian Scott, was thrilled to share that, "Italy is brimming with American travelers. The nation has recovered and is eagerly welcoming visitors. The service was gracious and hospitable, and as always, the food was exceptional, and the wine, need I say more. I met many locals while traveling the Amalfi Coast and Rome, happy to spend part of their day with me. Yes, Italians are delighted to see and cater to visitors again, and all venues are open. Simply put…Italy is booming and welcoming!"
Scott continued, "Further to all of this, today the US dollar goes a long way in Europe, making it the very best time in more than a decade to embark on an unparalleled group travel experience to one of the world's most iconic vacation destinations – Italy."
Aventura World is pleased to showcase enhanced travel programs in Tuscany and Amalfi. Here is a glance at what travelers can expect when embarking on an Aventura World Italy experience designed by destinations\ experts and meticulously delivered by the company's in-country destination management professionals and tour directors.
-- 9-Day Tuscany Exploration --
Known for its beautiful landscapes, its rich artistic legacy, and vast influence on high culture, Tuscany is simply unforgettable. This exclusive Aventura World itinerary takes travelers to enjoy an extended stay in Montecatini as their home base. On this trip, travelers will explore the medieval town of Montecatini Terme, delve into Renaissance art and architecture in Florence, marvel at the legendary Leaning Tower of Pisa visit Piazza dei Miracoli, revel in the medieval towns of Lucca, Siena & San Gimignano, and view the spectacular scenery of Cinque Terre. As part of Aventura World's signature Cultural Discovery Series, guests will savor the flavors of the Chianti Region with a special wine-tasting experience and enjoy interactions with locals with such experiences as a visit to the artisans' workshops in the Oltrarno district in Florence, and an authentic local dinner at a countryside estate. Travelers can extend their vacation with a stay in Rome and the opportunity to tour Vatican City with an insider's perspective.
-- 8-Day Best of Amalfi Coast & Rome --
From Galli's Isles in front of Positano to the Emerald Grotto, the Amalfi Coast captivates. On this Aventura World itinerary, travelers will call Sorrento their home for 6 nights. From there, group sojourners will explore the Amalfi Coast's Positano and Ravello, as well as the resort town Isle of Capri. Insightful guides will take guests to tour amazing places including: the terraced gardens of Augustus, Salerno's site of the Allied landing in WWII, storied Pompeii, and the Eternal City of Rome including the famed Colosseum. Travelers will also relish insider's access to the treasures of the Vatican and Michelangelo's Sistine Chapel. This fascinating program encompasses cultural connections, in-depth learning on the local economy and social systems, and interaction with locals such as learning about wood craftsmanship and the traditions and secrets behind "Limoncello" production—all as part of the company's signature Cultural Discovery Series.
To contact Aventura World or to request additional information email: sales@aventuraworld.com.
About Aventura World
A valued leader in the US group travel marketplace since 1972, Aventura World is a distinctive travel company focused on elevating group travel beyond traditional sightseeing to delivering culturally rich, interactive, and in-depth destination experiences each and every time. The company is known for providing excellent client service, destination expertise, and meticulously planned tour and travel packages. As part of Aventura World's international awareness program, the group travel brand presents travelers with a unique "insiders" perspective and provides enriching moments that bring each destination to life. Backed by the strength of Sakkara Group International, Aventura World offers the reliability and security that its clients are booking and traveling with a strong, long-established, robust group tour operator with a time-honored history as well as an ongoing commitment to providing the best in travel. For additional details, visit AventuraWorld.com.