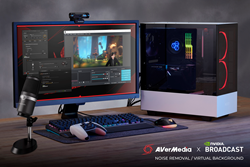 FREMONT, Calif. (PRWEB) May 11, 2021
AVerMedia Technologies, Inc., a leader in digital video and audio, today announced it has added support for NVIDIA Virtual Background and Noise Removal to CamEngine and VoiceEngine respectively.
With CamEngine and Virtual Background, AVerMedia Webcam users will be able to seamlessly remove their video background, enabling immersive environments with custom image, video or live gameplay in their background.
With VoiceEngine and Noise Removal, AVerMedia's USB microphone users can quickly, and with confidence, say goodbye to humming AC fans, clicky keyboards noises and other unwanted background noise.
This integration grows from AVerMedia and NVIDIA's relentless search to bring easy-to-use, yet powerful, tools that empower creators to elevate their content to new levels. It is time for content creators to unlock the true power of their AVerMedia devices.
About AVerMedia Technologies, Inc.:
AVerMedia empowers people to easily connect and boldly create through innovative audiovisual technology. Our solutions help people work productively, build new relationships, and expand their horizons in ways that weren't possible before. Our products include a wide range of powerful yet easy-to-use devices such as webcams, video capture cards, and microphones for content creators, schools, and businesses. We also provide hardware design services for a range of AI and IoT applications, from smart retail to smart cities.
AVerMedia is guided by a philosophy of contributing to society- whether through products that change customers' lives for the better, or by ensuring our operations are socially responsible.
Connect with AVerMedia:
Twitter: https://twitter.com/AVerMedia
Facebook: https://www.facebook.com/AVerMedia
Instagram: http://www.instagram.com/AVerMedia
Reddit: https://www.reddit.com/r/AverMedia/