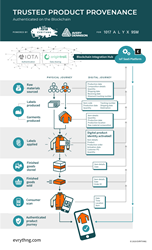 "Blockchain and distributed ledger technology is the future for effective brand protection," said Matthew Williams, 1017 ALYX 9SM. "By supplying product information, supply chain traceability and transparent dialogue with the consumer, the brand's authenticity is globally secured."
COPENHAGEN, Denmark (PRWEB) May 15, 2019
Avery Dennison (NYSE:AVY) and EVRYTHNG today announced the launch of an innovative new blockchain solution for the fashion industry, in partnership with 1017 ALYX 9SM, Matthew Williams's cutting edge fashion label. This proof of concept distributed ledger technology (DLT) solution is an extension of Avery Dennison's Janela™ platform, powered by EVRYTHNG, which allows brands to create clothing that is born digital, and connect with their customers directly via a QR code on the label. With this announcement, we've added the capabilities of EVRYTHNG Blockchain Integration Hub partner, IOTA, to provide consumers with full transparency and provenance for the 1017 ALYX 9SM apparel items they purchase and wear.
Brand transparency is more important than ever to consumers, who express growing concerns over sustainable and ethically-sourced fashion, alongside clothing provenance. This 'track to the rack' capability is a response to those concerns and allows consumers and brands alike to see an item's journey from creation to sale, understand exactly where the product has come from and prove its provenance.
By scanning a label with their smartphone, consumers can view the garment's "journey" and track it back from creation to the rack and point of sale. They can also confirm the authenticity of the product, along with its sustainability credentials. Brands will have full visibility of their product's journey throughout the supply chain, giving them access to data and statistics, via IOTA's distributed ledger, across different sales channels and consumer preferences in real time.
This partnership with 1017 ALYX 9SM is one of the first public proofs-of-concept of the solution. Avery Dennison met the ALYX team at last year's Copenhagen Fashion Summit during an innovation speed dating event hosted by the summit organizers. Avery Dennison has since undertaken a series of internal pilots to get the solution market-ready and will unveil it at this year's summit as the culmination of an exciting year-long collaboration.
Matthew Williams is an innovative designer who is committed to pushing new ideas forward, and he is currently a Nike collaborator who also worked with Virgil Abloh and Kanye West. Williams built 1017 ALYX 9SM on the concept of high-quality materials mixed with subversive culture, and the garments are produced in Italy.
"Blockchain and distributed ledger technology is the future for effective brand protection," said Williams. "By supplying product information, supply chain traceability and transparent dialogue with the consumer, the brand's authenticity is globally secured. Collaborating with Avery Dennison to explore the potential of this software has informed our approach to communication."
"Unveiling this partnership with ALYX is a big moment for us," says Debbie Shakespeare, senior director of sustainability and compliance, Avery Dennison. "Our innovative solution combines our Janela platform with a new blockchain layer, providing consumers and brands with fundamental uncompromisable data. Brands and consumers can know that the information they are being shown about the garment's creation process is 100% accurate and can be trusted implicitly. This is a watershed moment for improving brand transparency and trust."
"Our collaboration with Avery Dennison and IOTA brings a whole new level of supply chain traceability to the apparel industry," said Dominique Guinard, co-founder and CTO, EVRYTHNG. "Today's consumers demand brands demonstrate transparency, authenticity and sustainability in the supply chain. We are excited to partner with Avery Dennison and help 1017 ALYX 9SM deliver this to customers through a new distributed ledger technology-based solution, powered by IOTA. Customers will now be able to access an apparel item's provenance via a smartphone scan of a QR code label."
Avery Dennison and 1017 ALYX 9SM will be at Copenhagen Fashion Summit on May 15 and 16, 2019, showcasing items from the ALYX collection that are equipped with the blockchain solution. Visitors will be able to experience firsthand how the solution works and the type of information it presents to brands and consumers.
About EVRYTHNG
EVRYTHNG is the market leading internet of things SaaS platform for consumer products, managing billions of unique digital identities in the cloud. Brands and their service providers work with EVRYTHNG to apply data science intelligence on an item-by-item basis, drive new digital applications, gain visibility into supply chains, and engage with their customers. EVRYTHNG led the creation of the new GS1 industry standards that have upgraded the world's barcodes and product tags to connect every product to the Web. Learn more at: https://evrythng.com and @EVRYTHNG.
About IOTA Foundation
IOTA is a not-for-profit foundation incorporated and registered in Germany. The IOTA Foundation's mission is to support the development and standardization of new distributed ledger technologies (DLT), including the IOTA Tangle. The IOTA Tangle is an innovative type of DLT specifically designed for the Internet of Things (IoT) environment. It is an open-source protocol facilitating novel Machine-to-Machine (M2M) interactions, including secure data transfer, fee-less real-time micropayments, and the collection and dissemination of sensor-based and other data. Learn more at http://www.iota.org and @iotatoken.
About Avery Dennison
Avery Dennison Corporation (NYSE: AVY) is a global materials science and manufacturing company specializing in the design and manufacture of a wide variety of labeling and functional materials. The company's products, which are used in nearly every major industry, include pressure-sensitive materials for labels and graphic applications; tapes and other bonding solutions for industrial, medical and retail applications; tags, labels and embellishments for apparel; and radio-frequency identification (RFID) solutions serving retail apparel and other markets. Headquartered in Glendale, California, the company employs approximately 30,000 employees in more than 50 countries. Reported sales in 2018 were $7.2 billion. Learn more at http://www.averydennison.com.