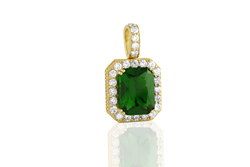 "Many clients seek emerald designs as a sign of good fortune," said Avianne & Co. President Joe Avianne. "They enjoy the power and money that a green stone represents."
New York (PRWEB) May 06, 2014
The thought of emeralds reminds many people immediately of the yellow brick road leading into the magnificent Emerald City in The Wizard of Oz. You may not be able to ask the Great Oz to give you some Emerald City bling, but jewelers Avianne & Co. can assist in creating custom emerald pieces fit for everyone from a king to just a girl from Kansas.
Emeralds symbolize rebirth, which is one reason they are the stone of choice after April's shower of diamonds.
For those who like to stay on trend, mixing emeralds and diamonds is a great way to stay fashionable. Avianne & Co. created a 14-carat yellow gold bracelet with brilliant green emeralds that total 5.29 carats for $5,000. A bracelet with an emerald O and diamond X might be the best way to show your affection for someone close to you who is celebrating a May birthday.
"Many clients seek emerald designs as a sign of good fortune," said Avianne & Co. President Joe Avianne. "They enjoy the power and money that a green stone represents."
Ranging from bluish-green to greenish-blue in color, emeralds are the gems of royalty, romance and intrigue.
Celebrities who are emerald babies include Kimora Lee Simmons, Cee-Lo Green, actor and WWE star Dwayne "The Rock" Johnson, and Andre 3000. Many of these highly publicized stars can be seen sporting emerald jewelry of all styles.
Rapper Birdman also requested a custom emerald pendant that Avianne & Co. created.
The lavish lifestyle of celebrities lends a hand to the popularization of these luscious green gems. With the help of Avianne & Co., you too can be a part of May's gorgeous Emerald City. Visit http://www.avianneandco.com to add an emerald piece to your collection.
In Manhattan's famed Diamond District, Avianne & Co. Jewelers is a premier fine jewelry source for celebrities, entertainers and athletes. First- and second-generation immigrants founded the family business in 1999, and Avianne & Co. has since built a reputation for custom and high-end pieces, including elegant diamond necklaces and bracelets, exquisite engagement rings and wedding bands, watches and chains for its celebrity and executive clientele. Famous personalities purchase custom jewelry exclusively from Avianne & Co., including Derrick Williams, Ne-Yo, Lil Wayne, Cam'Ron and Nicki Minaj. Those pieces are featured in major news outlets, including Forbes and XXL. Avianne & Co. survived the economic recession at a time when historic jewelry businesses were shutting down in the heart of America's NYC Diamond District. Avianne & Co.'s store is located on West 47th Street between 5th Avenue and 6th Avenue (Avenue of the Americas) in midtown Manhattan, within walking distance of many New York attractions. For more information, visit http://www.avianneandco.com or call 888-243-4344.
###
For additional information, interview and image requests, contact Axia Public Relations at 888-PR-FIRM-8, ext. 700.