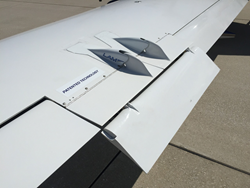 LAM's Aero System is a huge breakthrough for pilots, who traditionally have had to choose between speed and safety.
San Francisco, CA (PRWEB) July 11, 2016
LAM Aviation, Inc. today announced commercial availability of the first new wing flight control system in generations, providing aircraft manufacturers with a low-risk pathway to achieve significant performance, handling and safety gains. The LAM Aero SystemTM is based on a novel approach to using aileron and flap panels that exploits new interactions between the panels, while also uncoupling the traditional interdependent sizing relationship between ailerons and flaps. The resulting configurations limit loss of control and stall/spin departure by allowing a smaller wing to produce more lift, while also improving roll control at slow speeds.
LAM is offering these safety and performance benefits in a system package that can be applied to any general aviation (GA) aircraft. The LAM Aero System (LAS) will be on display at booth #646 in the North Aircraft Display at EAA AirVenture Oshkosh, the world's largest fly-in gathering, taking place July 25-31 in Oshkosh, Wisconsin.
Addressing the FAA's Top Safety Concern: Loss of Control
Both the FAA and NTSB have named Loss of Control (LOC) on their 2016 "Most Wanted" list of transportation safety improvements for general aviation. According to the FAA, last year 384 people died in 238 general aviation accidents, and LOC was the number one cause of these accidents. The FAA is spearheading rule changes (Part 23) to hasten the adoption of technology solutions that enhance aviation safety, and has partnered with LAM on an Angle of Attack research project to address the perennial issue of stall/spin.
"There is one fatal accident involving loss of control every four days, making spin fatalities and stall/spin accidents a major concern for pilots, aircraft manufacturers and the FAA," said Erik Stephansen, CEO of LAM Aviation. "LAM's system-based approach to safety is precisely the type of industry innovation the FAA is seeking to address its most pressing aviation concerns, and we're excited to make this game-changing solution commercially available for GA pilots."
Hybrid System Offers Improved Performance, Handling and Control
LAM's unique hybrid system is a combination of flight control surfaces driven mechanically and electro mechanically for improved aircraft performance, handling and control. These flight surfaces can work independently or together, improving low-speed performance and flight-handling characteristics. They can also provide numerous other functions such as speed brakes and drag rudders. This yields wings with both increased lift coefficients and improved lateral control at slow speeds, and vastly improved stall/spin behavior.
LAM spin resistance provides a foundation for envelope protection enabled by LAM's underlying aileron technology. The combination of improved stalling behavior and better lateral control is key to providing spin resistance characteristics, and also provides anti-torque for spin recovery. The LAM Aero system prevents inadvertent departure from controlled flight, tolerates aggravated control inputs, is highly non-spinnable, and anti-autorotative in a spin. In addition, LAS is fully redundant. If the LAM electro-mechanical system were to fail, the aircraft's independent mechanical system would by itself provide control.
"LAM's Aero System is a huge breakthrough for pilots, who traditionally have had to choose between speed and safety," said Michael Lam, Founder of LAM Aviation. "Our hybrid, fly-by-wire system expands the performance envelope in all directions, providing not only improved control, stability and performance, but enhanced safety throughout all phases of flight from takeoff to cruise to landing. This is a significant advancement for general aviation that will make flying safer, as well as more enjoyable."
LAM System Commercially Available
LAM showcased its early technology solution on a retrofitted Lancair Columbia as a proof-of-concept at EAA AirVenture 2013. The successful flight test results showcased dramatic improvements in fuel economy, cruise performance, rate of climb, and better handling in all phases of flight.
At EAA AirVenture 2016, LAM will be offering the LAM Aero System on a modified Columbia 300, named the Columbia Volant. The Volant is the first aircraft to integrate anti-spin and high-lift technology in one package, resulting in one of the safest and fastest four-place piston powered aircraft ever made. The company will begin licensing its technology soon and is planning retrofit LAM Aero Systems for GA aircraft in both experimental and certified versions that will provide its anti-spin and high-lift system. For more information, visit LAM Aviation at EAA AirVenture 2016, or go to http://lamaviation.com/
About Lam Aviation
Lam Aviation engineers active wing control systems. The LAM Aero System is the first major new wing flight control system since the introduction of the aileron and flap. LAS improves aircraft fuel efficiency, range, useful load, and both high-speed cruise and low-speed performance. Its innovative design is ideal for any aircraft that uses a wing trimmed by a tail. The system can be retrofitted on existing aircraft or designed into new aircraft. Lam Aviation is headquartered in the San Francisco Bay Area and backed by a veteran team of aviation engineers, award-winning aircraft designers, and accomplished investors. To learn more about LAM innovations, visit http://www.lamaviation.com or follow us on Twitter @LAMAviation.
Lam Aviation and Lam Aero System are trademarks of Lam Aviation. All other brands, products, or service names are or may be trademarks or service marks of their respective owners.
Media Contact:
Jennifer Deitsch
jennifer(at)deitschpr(dot)com
408-644-4859