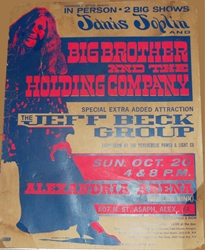 Beeghley's concert poster layouts featured artist headshots, psychedelic fonts, and generous use of DayGlo colors to make the posters' pop and stand out.
DENVER (PRWEB) May 30, 2020
Avid collector, Andrew Hawley from Vintage Rock Posters, announces his search for original Dail W. Beeghly Janis Joplin 1968 Roller Rink in Alexandria, Virginia concert poster. Beeghley produced stunning psychedelic concert posters for some of the leading 1960s rock bands. The show was in Alexandria, Virginia, on October 20, 1968. According to Hawley, "Beeghly designed some of the more vibrant and graphically interesting concert posters for DC/Virginia rock shows. The crowd at the roller ring was in for a treat with Joplin accompanied by Big Brother and the Holding Company. Jeff Beck Group was the backup band. The poster is 22 x 28 inches and was printed on thick cardboard by Creative Graphics. It features a stunning photo of Janis bathed in a vibrant mix of blue and magenta colors. Approximately 200 of the posters were hung on telephone poles and in local establishments to advertise the show. He also designed the 1967 Doors Washington Hilton Hotel and 1968 Jimi Hendrix Experience Merriweather Post Pavillion concert posters." For examples of Janis Joplin psychedelic concert posters, please go to https://www.vintageconcertposterbuyer.com/fillmore_era/janis_joplin.html
Hawley is willing to pay $3,000 cash for Janis Joplin Roller Rink boxing style concert posters or any other original 1967-1969 Dail W. Beeghly concert posters. Please call 310-346-1965 or email andrew (at) vintageconcertposterbuyer.com.