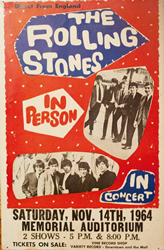 Believe or not only 1,700 people showed up for the 35-minute show.
SAN FRANCISCO (PRWEB) May 30, 2020
Avid Collector, Andrew Hawley from Vintage Rock Posters, announces his search for the 1964 Rolling Stones Louisville Memorial Auditorium concert poster. This classic boxing style tour blank was used for the Stones shows in Milwaukee, Chicago, and Sacramento. According to Hawley, "Believe, or not only 1,700 people showed up for the 35-minute show. Tickets sales were low because James Brown was also in town that night. Mick Jagger and Bill Wyman went to the show, and James Brown invited them on stage to take a bow. Brian Jones was sick with bronchial pneumonia and did not play that night. This beautiful 14 x 22 inch tour blank includes two pictures of the band. Local venue and ticket information were printed in the white blank section on the bottom of the poster." For examples of Rolling Stones boxing style posters, please go to https://www.vintageconcertposterbuyer.com/boxing_style/rolling_stones.html
If you have an original 1964 second U.S. Rolling Stones tour blank, Hawley is willing to pay $5,000 cash for each concert poster. He is also interested in any authentic 1964-1966 Rolling Stones concert posters. Any condition accepted. Please call 310-346-1965 or email andrew (at) vintageconcertposterbuyer.com.