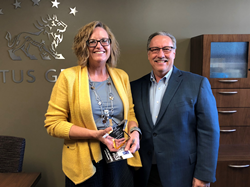 Over the past year, I have had the opportunity to work with a great team of people within Avitus Group.
DENVER (PRWEB) November 01, 2019
"We received numerous nominations this quarter, however, Susan's stood out. Her colleagues recognize her expertise in the field of accounting as well as her positive and fun attitude at work despite the stress level that any career can carry," says Sarah Gunn Avitus Group Employee of the Quarter Committee Member.
Dell'Angelo joined Avitus Group in 2017 and is a valued member of the corporate accounting department. She is based out of the company's Billings, Montana operations center and is a Senior Tax Accountant. Nominations from her co-workers praised Susan for her wide knowledge base in the area of accounting and taxes, as well as her willingness to jump in and assist all departments as needed.
"Over the past year, I have had the opportunity to work with a great team of people within Avitus Group. The support from the corporate accounting, client experience and the APS payroll processing teams has been instrumental in allowing me to create the best experience for our clients as possible," says Avitus Group Employee of the Quarter Susan Dell'Angelo.
Avitus Group's Employee of the Quarter program recognizes employees who make significant contributions to Avitus Group and its customers. Employees of the Quarter receive a paid day off, a $150 gift card and $50 in Avitus Group branded apparel.
"We're fortunate to have Susan on our team, and we're always looking for dedicated team members like her to join our company," says Avitus Group Director of Recruiting Alex Mozota.
Avitus Group is a worldwide company that simplifies, strengthens and grows businesses by providing 'back office' support (payroll, accounting, taxes, recruiting, information technology, human resources and much more). When a business uses Avitus Group, all of the necessary yet burdensome functions of the business become Avitus Group's responsibility, so the business can focus on what it does best. Avitus Group serves clients nationwide through regional office locations from coast to coast. The company also serves international clients through partner locations.