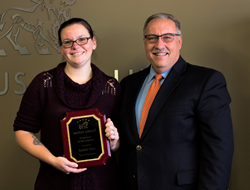 Working at Avitus Group has been a wonderful experience, and like no job I have had before. I love what I do.
BILLINGS, Mont. (PRWEB) October 10, 2018
International professional services provider Avitus Group has chosen Payroll Specialist Amber Noy as the company's Employee of the Quarter (EOQ) for the third quarter of 2018.
"Amber works hard to provide great customer service and quality work," says Avitus Group Public Relations Manager Dianne Parker. "Many members of the EOQ Committee have had the pleasure of working with Amber and have witnessed firsthand her dedication to clients and Avitus Group."
Noy joined Avitus Group in October 2016 as a Payroll Specialist and is based out of the company's Billings Montana Operations Center.
"Amber is always willing to help out with whatever needs to be done and always has a positive attitude," says Avitus Group Recruiting Specialist and member of the EOQ Committee Teal Francis. "She puts in a lot of work to ensure everything is correct and things are finished. She is well deserving of this award."
"Working at Avitus Group has been a wonderful experience, and like no job I have had before. I actually don't dread coming to work every day, and I love what I do. I am honored to have been chosen as Employee of the quarter, and I do what I do to make sure all of my clients are happy and have the best service I can provide," says Avitus Group Payroll Specialist and Employee of the Quarter Amber Noy.
Avitus Group President Don Reile believes keeping the company mission in mind at all times is crucial to providing consistent, high-quality customer service. "Amber follows our service motto every day when she deals with customers, even in difficult situations," Reile says.
Avitus Group's Employee of the Quarter program recognizes employees who make significant contributions to Avitus Group and its customers. Employees of the Quarter receive a paid day off, a $150 gift card and $50 in Avitus Group branded apparel.
About Avitus Group
Avitus Group is a worldwide company that simplifies, strengthens and grows businesses by providing 'back office' support (payroll, accounting, taxes, recruiting, information technology, human resources and much more). When a business uses Avitus Group, all of the necessary yet burdensome functions of the business become Avitus Group's responsibility, so the business can focus on what it does best. Avitus Group serves clients nationwide through regional office locations from coast to coast. The company also serves international clients through partner locations.