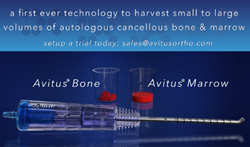 SHELTON, Conn. (PRWEB) October 27, 2020
Avitus Orthopaedics, a medical device company, today announced that it has launched the Avitus® Bone Harvester - 6mm Edition, technology that enables surgeons to harvest small to large volumes of autologous bone graft and marrow from smaller bone anatomies such as the calcaneus and distal radius. The new Avitus® Bone Harvester – 6mm Edition – features a 30% smaller pilot hole entry than the standard edition.
"We developed the original Avitus® Bone Harvester technology to solve an important clinical problem – surgeons needed a simple way to obtain high quality autograft and marrow minimally invasively for their patients," said Maxim Budyansky, Co-founder and Chief Technology Officer of Avitus. "We have been honored to witness the traction and excitement among surgeons since we launched over two years ago. More importantly, we have continuously sought feedback from our users to fuel our efforts of improving upon and optimizing our technology. The 6mm edition builds on our offering, providing surgeons with the versatility to harvest from various anatomies for their streamlined bone and marrow harvests."
"We are thrilled to provide our surgeons with a range of sizes to tackle a full spectrum of bone harvesting needs with the addition of the Avitus® Bone Harvester – 6mm Edition," said Steven Lotz, Avitus VP of Sales. "Our rapidly growing network of distribution partners find Avitus® to be a powerful tool in their sales bag. It offers them a unique and truly value-additive product to put in front of their surgeons, who are galvanized by the opportunity to provide their patients with gold standard autologous graft and marrow while delivering significant cost savings to their hospitals."
Distributors are encouraged to apply here or contact sales@avitusortho.com if they are interested in becoming an Avitus® sales partner.
Product Links:
Avitus® Bone Harvester – 6mm Edition – Product Animation
Avitus® Bone Harvester – 6mm Edition – Product Slick
Avitus® Bone Harvester Product Brochure
Avitus® Bone Harvester Clinical Video
About Avitus Orthopaedics:
Avitus Orthopaedics is a medical device company that has pioneered the Avitus® Bone Harvester – a product that is revolutionizing autografting for orthopaedic surgeries. Avitus was founded by engineers and surgeons at the Johns Hopkins Center for Bioengineering Innovation and Design. The Avitus team is dedicated and committed to excellence, innovation, and solving unmet clinical needs to serve their surgeon users. For more information, please visit https://www.avitusortho.com/product.htm.