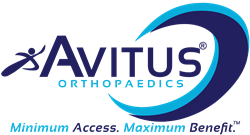 SHELTON, Conn. (PRWEB) April 13, 2021
Avitus Orthopaedics, a medical device company, today announced that it has received FDA clearance for the expanded indications for use of its Avitus® Bone Harvester technology. This FDA clearance allows for the use of the Avitus® Bone Harvester to debride and capture infected, necrotic, or diseased cancellous bone, such as in the removal of osteomyelitis and cancellous bone tumors.
"The Avitus® Bone Harvester technology was initially developed to solve an important clinical problem – surgeons needed a simple way to obtain high quality autograft and marrow minimally invasively for their patients," said Neil Shah, Co-founder and Chief Executive Officer of Avitus. "Once it was launched, we began receiving user feedback on other applications of our technology. Many surgeons indicated that they would benefit from utilizing the Avitus® to remove bone tumors and infected bone. We are thrilled to now offer them a solution."
The Avitus® Bone Harvester is a suction powered surgical instrument that enables surgeons to harvest autologous bone graft and liquid marrow for a wide range of orthopaedic surgeries such as fusions, reconstructions, and fracture non-unions. The Avitus® comes in multiple sizes, providing surgeons with the flexibility to harvest from various anatomies depending on their surgery-specific needs.
"In applications for the removal of infected or diseased bone, the Avitus® Bone Harvester offers several key advantages," says Maxim Budyansky, Avitus Co-Founder and Chief Technology Officer. "The patented suction-powered technology enables the removal of diseased bone quickly and minimally invasively. The collected tissue is contained within the handle of the device, minimizing exposure to surrounding healthy tissue and allowing for easy transport of the diseased tissue out of the surgical field without contamination of other instruments and the surgical site. The tissue can be discarded, or it can be simply retrieved from the device if subsequent pathology analysis is required."
Avitus Orthopaedics is actively seeking sales partners to join its rapidly growing distribution network. Distributors who currently service foot & ankle surgeons, upper extremity surgeons, traumatologists, and orthopaedic oncology surgeons are encouraged to apply here or contact sales@avitusortho.com.
Product Links:

About Avitus Orthopaedics:
Avitus Orthopaedics is a medical device company that has pioneered the Avitus® Bone Harvester – a product that is revolutionizing autografting for orthopaedic surgeries. Avitus was founded by engineers and surgeons at the Johns Hopkins Center for Bioengineering Innovation and Design. The Avitus team is dedicated and committed to excellence, innovation, and solving unmet clinical needs to serve their surgeon users. For more information, please visit https://www.avitusortho.com/product.htm.